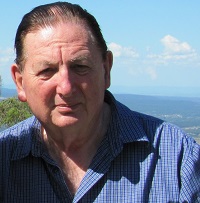 Chemist Warehouse, as you would have imagined, has taken the initiative to discount the co-pay for PBS prescriptions by $1.00.
The impact on a retail pharmacy like the warehouse model is not quite the same as for a community pharmacy, because budgets for retail pharmacies are geared for lower profit percentages combined with higher turnover dollars.
Adjustments to the bottom line would have been modelled and their management clearly likes to create anxiety throughout community pharmacy, hoping to demoralise that sector to enable a transfer of prescription business to occur.
It is a marketing strategy that while you may have to follow the co-pay, you offset it by adopting strategies and looking for new opportunities, more suited to your own business model.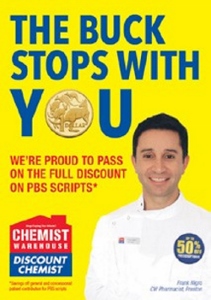 What also might have been factored in ( and you may have to have the same thoughts) was that it may be close to time to start planning for automated dispensing equipment and to accommodate the $1.00 discount, pharmacist hours in the dispensary must be replaced by technician hours.
Both of these factors will improve bottom lines and survival rates.
As the co-pay directly affects the dispensary income, savings must be found from the dispensary alone to balance out this impact.
As a community pharmacy you should be following your own vision and not allow disruptive retail tactics to interfere long-term.
Set up your own market planning and include appropriate budgets for growth and profits.
Here represents the opportunity for community pharmacy to break out of its existing mould and start thinking outside of the square in a positive New Year's resolution.
If your pharmacy has sufficient (or nearly sufficient) prescription volume to justify the purchase of automated equipment, then now is the time to make that purchase.
Dispensing is core business for community pharmacies and value-adding opportunities need to be developed.
The opposite occurs in Retail Warehouse pharmacies where prescriptions are devalued and are more appropriately styled as "loss leaders". This may, in fact, work against them long-term because they have to factor in the cash flow losses associated with discounting prescriptions- a resource that is already under pressure.
For community pharmacies I would suggest the following strategies which do require a financial investment over time.
This is simply a regular business process to guarantee your current business model is always updated so that you become relevant to your community – and profitable.
1. Remove all pharmacists from the dispensary. This is a decision that has been foreshadowed over time, but it must now be taken.
Two things must occur before that decision is undertaken:
* Create a dispensing assistant as a "prescription checker" and design a tick box checking sheet for that process. This person may already work in the dispensary or may have to be be an additional recruit. Ensure that the "checker" is a different person to the one doing the computer input.
* Create a work station for the "pharmacist in charge" in a forward location. This person takes legal responsibility for the final check for a prescription and countersigns the checking form.
The forward location must be appropriately designed, and finished prescriptions may need a different, but secure fitting to minimise walking distances and double handling of finished prescriptions.
Put some thought into the design of workflows and associated fittings.
This is an investment that cannot be put off.
The above process restores profitability to the dispensary leaving the forward pharmacist to now value-add to their daily activity through the application of counter prescribing and a limited number of consultations that are revenue-producing.
It has been proven that irrespective of additional customer/patient count, or not, an accessible forward pharmacist will add to the bottom line of a pharmacy business.
Extra pharmacist effort will improve the bottom line even more, and given that extra time is now available, a little bit of creative thinking ought to be able to plug any income gaps.
2. Decide on your counter to the Chemist Warehouse dollar discount.
It is suggested that you adopt a strategy of meeting competition on a patient-by-patient strategy by advertising:
"We will meet the advertised price of any prescription offered by a competitor" 
This will slow down the price discount, but not ultimately stop it.
You remain competitive, but you do not become the "price leader".
However, it will buy time to enable you to get your alternative processes in place and demonstrate that you can still add value to your core business of dispensing, unlike Chemist Warehouse who are prepared to send patients to other pharmacies to get information they are not prepared to provide.
3. Develop a "patient package".
Start by quantifying what a patient can expect from your pharmacy and identify the value represented by each benefit.
Create choice by offering a range of activities and values (no more than three packages).
You can even tie them in with a variable discount on a PBS prescription.
But start with a formal registration of the patient so that they are identifiable and use their contact details to formulate a range of services that would appeal to a patient.
And that becomes the basis for a professional marketing program.
4. Look at investment into automated dispensing equipment.
This is the "tipping point" moment for robotic dispensing, with as many dispensing and associated processes as possible delegated to a machine.
While we really hate to think of people being displaced, think of this as an opportunity to retrain people in different roles and expand the health market in which you already work.
Pay for the equipment over a five-year time frame to avoid an adverse impact on cash flow and budget these costs to comfortably fit within your cash flow estimates.
5. It is not clear yet what will be viable services coming from 6CPA funding, but one that will need attention will be the minor ailments program, a basic primary health care service.
If there are no pharmacists available to take up these hours, an opportunity will be lost to make clinical pharmacists an investment opportunity.
However, regard government funding as "seed money" and ensure that you reserve a segment for private patients to avoid future disruption and government inflexibility.
6. It is shaping up that for a community pharmacy to remain viable, it must be able to support two pharmacists – a pharmacist-in-charge of dispensing and a clinical pharmacist that is not located in a dispensary and interviews patients.
And optimally, three technicians associated with the dispensary – one for clerical input, one for dispensing and one for checking, with the potential for automated equipment to remove the dispensing technician.
If your pharmacy is unable to support this number of staff, then you should be looking at amalgamating with another pharmacy.
With a single ownership structure it may be legally possible to retain the approval number of the smaller pharmacy and still operate it as normal, except that the dispensing is concentrated into the larger pharmacy.
This would produce a dispensing scale of economy that would again offset the dollar discount and create viability in a smaller pharmacy.
My understanding is that a central dispensing process would only be illegal if approval numbers were not in place, but independently check with a legal opinion before trying to set up this type of operation.
7. Consider the establishment of a range of "walk-in" clinics structured around different health concepts e.g. Baby Health, Stop Smoking, Weight Loss, Hearing Loss, Wound Management, Incontinence etc.
Each type of clinic will have to be paid for by the pharmacy, but will be an investment that will recoup itself in OTC sales.
These types of clinics can be operated on a one-day per week basis or whatever cycle is manageable.
They will need to be staffed with qualified and competent people, and your future planning may need to include a second clinical space to accommodate these activities.
8. In an earlier article I discussed future community pharmacies and put forward the proposition that for survival, community pharmacies will need to be larger, properly staffed businesses even extending to multi-storey buildings to accommodate all the services that pharmacy is capable of generating or managing.
Size does matter and it will be a better investment to create size, clinical training and other activities, particularly in the primary health care sector, rather than develop smaller units and more numerous outlets.
Primary health care management will be jointly managed with GP's, but only when a referral is needed for a complex patient.
If a pharmacy manages primary health care to the maximum level of their licence, then up to eighty percent of primary care will remain affordable within pharmacy.
A GP-dominant model would be too expensive, but would be optimal for complex patients.
9. Develop economical  "knowledge" modules to back a consultation model for managing patients with a chronic illness.
The length of consultation would need to be in modules of 15 minutes with the first one probably requiring two modules to collect enough patient data to create the correct focus for future visits.
The first three visits could be spaced at one month intervals which could then evolve to quarterly visits ongoing. They need to be conducted within a private and secure clinical space.
Payment for these types of consultations can be on a fee for service basis, but they can be readily adapted to be part of a broader "medical home" component paid for by an annual capitation fee.
10. The co-payment discount should be triggering thoughts for rational decision-making.
The discount comes straight off the bottom line for the dispensary.
Profit loss is immediate and high, so costs have to be salvaged from existing processes.
As the existing dispensary model is no longer suitable, decisions must be made to:
* Invest in the dispensary work flow to reduce operating costs while simultaneously expanding market capacity for new business to absorb people displaced by these decisions.
* Seek new sources for prescription business. A potential exists for an in-house clinical pharmacist generating private prescriptions and opportunities may be found in expanding the dispensing service to include a wider range of compounding.
Once decisions start flowing progress will commence.