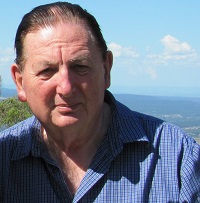 Developing technology for retail shelf pricing is being presented in an e-paper format.
Originally, this type of labelling was invented using LCD displays, but it was fuzzy and indistinct, with an inability to handle graphics, logos etc.
A new version known as ESL (electronic shelf label) uses a combination of e-paper and e-ink. This new system provides crisp, sharp displays and supports full graphic imaging.
The shelf labels are connected via a wireless communications network which allows updating of prices, product names and product graphics from a single update point in a back office location.
Wireless communications can be made to work with radio, infrared or visible light communication, but the market trends towards radio frequency.
Automated ESL systems reduces pricing management labour costs, improves pricing accuracy and allows dynamic pricing.
Dynamic pricing is the concept in which retailers can fluctuate pricing to match demand, online competition, inventory levels, shelf-life of items, and to create promotions.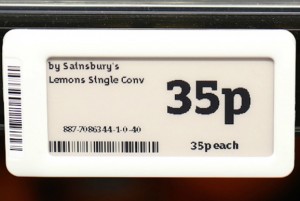 The concept has been gaining momentum among Japanese retailers and is about to gain wider acceptance when the UK retail chain Sainsbury's proves the system within its stores.
For the initial trial, the tags will use black e-ink plus one extra colour (red).


Additional colours will increase over time, but for the trial a red-coloured tag will indicate a "special" or a highly competitively priced item.
The trial, which has started at the Sainsbury's Local, a scaled-down branch in Shoreditch, London, will help the company gather information on how the signs affect customer behaviour and the business behind the scenes.
The system will initially be managed with hand-held reader units that will be programmed by trained employees. Once the system is proven and "bug-free" pricing will be determined by a centralized system linked in with Point of Sale (POS) technology to synchronise shelf prices with the cash register.
The Color-EPD (better known as E Ink) has other advantages in that it is built to withstand cold temperatures in refrigerators and freezers, and utilises secure, encrypted software.
Several other U.K. grocery stores, such as the Co-Operative, have trialled LCD units in the past, but thus far they haven't caught on. Past challenges in keeping the labels sustainable, plus the cost of hardware and training staff made it difficult for LCD technology costs to be recouped.
The newer EPD technologies look like creating a major cost difference, and can be linked to other technologies that Sainsbury have introduced such as its video streaming service.
Some Australian pharmacies have already introduced video streaming services and in these days where costs have to be tightly controlled, EPD shelf tagging linked in to the same centrally controlled back office system definitely shows a way towards reducing front of shop costs.
According to pouncemarketing.com.au, the streaming system also allows for a better promotional method for marketing clinical services without tying up valuable staff and pharmacist time.
It can be developed as preliminary form of pharmacist patient-engagement using familiar faces and voices attached to the pharmacy.
When designing the administrative unit to control pricing and video streaming, make it central to the in-house local area marketing team and extend the activities to email catalogue marketing and Internet activities involving pharmacy services and limited promotional catalogues.
Be able to shoot your own promotional videos because all this connected technology is now economical in cost and gaining marketing control of your local area market gives you a tool that can combat/replace national advertising by large groups.
Being quick on your feet will win the day.