The news broke last week that Alliance Boots was making plans to enter the Australian market.
This appears to be another step in the global concentration of community pharmacy, which Australian pharmacy has been able to withstand.
Until now.
The original Boots pharmacy group, a UK-based company, was recently taken over by the largest retail chain in the US, Walgreens.
Walgreens has become the driver for global growth and has formed other strategic alliances alliances to increase its purchasing power.
In 2013 Boots formed an alliance with Australia's Sigma pharmaceuticals Ltd to franchise Boots' branded products to Sigma's retail franchises – they are already here.
It will be interesting to see whether the Boots' relationship with Sigma will continue, given that their stated aim is to once more push to own pharmacies in Australia.
Sigma has not always seen to been fair, or faithful, to its pharmacy clients.
The investigation by a government committee into Location Rules and Ownership Rules is already stacked 2:1 against a favourable outcome for community pharmacy, so its also obvious that other global aspirants will follow the Boots' strategy.
The report from that committee is due in March 2017.
Unless the Pharmacy Guild of Australia (PGA) mobilises its lobbying resources now to disrupt the next federal election due shortly, Guild members may feel short-changed.
The next likely entrant will be the UK-based Lloydspharmacy who was recently acquired by German pharmacy conglomerate, Celesio.
Lloydspharmacy has been rapidly expanding its presence in the UK driving its offering with the strategies of forward pharmacy and walk-in clinics.
Celesio in turn has also been recently absorbed by McKesson, a major US pharmacy conglomerate, so transitions are occurring fast in the northern hemisphere.
It is interesting to note that Sainsbury's, a major UK food supermarket, found that it could not get adequate returns from their own pharmacies and so sold out their pharmacies to the Lloydspharmacy group.
The ingredient for success is actually the walk-in clinic model, which consumers accept because it maintains privacy and also offers an infrastructure that promotes professional collaboration between pharmacists and nurses (and potentially other health professionals).
The third entrant in the grab for pharmaceutical power is the Woolworths/Walmart alliance.
Woolworths already has its test model in New Zealand and has already signed a strategic agreement with the worlds's largest retailer, so is a strong contender when compared to the other two entrants above.
Looking at the Boots US parent company Walgreens, i2P would point to some recent activity noted by a Bloomberg analyst.
He says:
"Some things are just inevitable. Seasons change. Marvel releases superhero movies. Walgreens thinks about buying Express Scripts.
The idea of the pharmacy mega-chain buying America's largest pharmacy benefit manager (PBM) is one of the longer-running will-they/won't-they deals in health care M&A.
Walgreens CEO Stefano Pessina squirted a bit of lighter fluid on the coals on Thursday, after being asked on the company's earnings call if it wanted to buy a PBM.
"I couldn't have been clearer since the very beginning," Pessina said on the call. "I have seen this market and I am really convinced that vertical integration is a necessity."
SAFE PORT IN A STORM
In other words, Walgreens needs to stake more territory across the broader health-care universe.
It's hard to think of a deal that would fulfill that mandate more than a combination with Express Scripts.
Pessina noted Walgreens had done two major deals in less than a year and needs to consider how much more it can digest right now. Still, though it may not happen right away, an Express Scripts bid seems in the cards — and rightly so.
Walgreens, the biggest U.S. pharmacy chain, has been an aggressive dealmaker, buying a 45 percent stake in Alliance Boots in 2012, then combining fully at the end of 2014.
It now intends to buy Rite Aid for $9.4 billion, a deal it hopes will close in the second half of this year. Still, it has relied on partnerships to break into other businesses in the U.S.
Rival CVS Health, in comparison, owns the second-largest U.S. PBM and an array of other businesses throughout the health-care supply chain. Since CVS entered the PBM business in 2007 with its purchase of Caremark, its shares have outperformed Walgreens by more than 90 percent.
Walgreens' Rite Aid deal gives it access to a PBM, EnvisionRX, but it's a minnow compared to Express Scripts and CVS."
Now the elephant in the room in the above analysis is the acquisition of Patient Benefit Managers (PBM's) which are simply variations on the PBS and Medicare with private ownership rather than public ownership.
i2P believes that the current coalition is laying down the framework for the privatisation of all government controlled health systems. It has already started to contract its management systems to private organisations and it has also sold Medibank who might also become a contender by changing to become a PBM (it would be a match for Woolworths, for example, keeping a slice of pharmacy that is Australian owned – for now – little solace for Australian pharmacists).
If this current government has any ethics in its dealings with Australian pharmacists it should encourage Australian pharmacists, perhaps through the PGA, to have a head start in the new privatised health world.
But don't bet on it!
All three of the above major contenders would come into the Australian market with their own version of a PBM effectively shutting out all of the established pharmacies, unless you are open to offers from these companies to sell out.
I know, in the case of Woolworths, that they will build their own pharmacies and will only buy outside of that policy if it is strategic to do so.
What is going to potentially happen is that because of the small scale of Australian community pharmacy compared to the global scene, the intense competition will destroy most of the existing independent pharmacies.
The only strategy to prevent this from happening is that some organisation like the PGA uses its fighting chest to establish a home-grown PBM system, and it would really have to have a complete strategy in place with full planning in place right now.
That the PGA has not been fighting the structure of the government investigating committee is a mystery.
They state they will only do that if they see any reason to do so.
If they don't, there will be an avalanche of new "kids on the block" with deep pockets that the PGA will not be able to match.
Another potential trouble spot with US-based PBM's is that they have Big Pharma shareholdings and conflict of interest issues often arise.
Because UK pharmacy culture is closer to Australian pharmacy culture than that of the US, the spearhead to convert Australian pharmacy to be an integrated member of a global conglomerate will begin from UK sources, except for the Woolworths model that will simply be driven by Walmart.
It is likely that we might see a complete buyout of this Australian icon, promoted under the banner of "Walmart-Woolworths".
As the onslaught will primarily come from UK pharmacy conglomerates i2P has had a look at the contemporary community/retail pharmacy scene in the UK.
It's a shorthand version but it gives an idea of what the future holds for Australian pharmacists.
Community pharmacies are still one of the most accessible professional healthcare services.
The ease of being able to walk into any community pharmacy and speak to a professional pharmacist for advice on healthcare related issues is making them prized assets.
Such is their value, the British NHS recommends seeing your Pharmacist on an equal footing to seeing your Doctor for minor ailments.
Community pharmacies generate profit through dispensing prescriptions, offering enhanced services such as Medicine Use Reviews, Smoking Cessation and more, as well sales for over the counter medicines.
Recently, the battle for community pharmacy supremacy gained further pace with increased consolidation.
Lloyds Pharmacy, owned by Mckesson Celesio, a North American pharmaceutical wholesaler, purchased 281 Sainsbury's Pharmacies for £125m.
This includes 277 in-store community pharmacies, and 4 hospital branded pharmacies.
The sale is part of the Sainsbury's CEO, Mike Coupe's recent push to increase returns from their stores in the increasingly hostile environment for supermarkets.
Customers are moving away from the weekly shop
Sainsbury's cited in its 2014-15 Annual Statement report that customers are keeping to their shopping habits as during the recession.
Customers are moving away from the weekly shop, subsequently wasting less.
Instead they are increasingly shopping in discount and convenience stores, including pharmacies.
Sainsbury's predicts that by 2022, supermarkets will only hold 60% of the grocery market share, a 20% decline from 2007.
This deterioration in the market has led many to believe Sainsbury's is looking to partner with rival WM Morrisons to combat the decline.

Click to enlarge view
Figure 1:  Sainsbury's projection of grocery market share from 2007 to 2022F
Currently Sainsbury's holds a second largest market share, at 16.5%, for the 12 weeks to 19th July 2015, beating Asda by 0.1%.
The top position remains untouched with Tesco commanding 28.5%.
Sainsbury's strategic plan in selling the pharmacy license to Lloyds Pharmacy, in return for commercialised annual rent, will give a higher return.
Lloyds Pharmacy, with an already established pharmacy brand, will bring in new regular customers into the store for their prescriptions, enabling Sainsbury's to expand their grocery market to potentially new customers.
A further problem supermarkets are facing is the issue of excess space.
Commodity and non-food item shopping is moving online, leaving excess space within the store.
To combat this, Sainsbury's has offered concession to retailers including Argos and Jessops.
Sainsbury's predicts that within 5 years, 6% of store space will no longer be needed.
Sainsbury's plans to fill half of this excess space with its own clothing and non-food products but would look to use the remainder through partnerships with other businesses.
Whilst Argos and Sainsbury's interests overlap, Sainsbury's has stated that their products in cookware and homeware are more distinct from Argos' brand focused approach.
The purchase of Sainsbury's pharmacies, is a simple catch up move by Lloyds Pharmacy against its biggest rival, Walgreens Boots Alliance.
The Walgreens Boots Alliance is the result of a behemoth merger between Walgreens, the largest American pharmacy chain valued at $64bn and Alliance Boots, owned by private equity firm KKR and investor Stefano Pessina who bought the firm in 2007 in at that time, the biggest leveraged buy-out in history at $12bn.
Walgreens Boots Alliance, now has over 11,000 stores over 12 countries.
Across the UK, there are currently over 2,500 Boots stores, compared to over 1,650 by Lloyds.
Acquisition of the 281 stores, would bring Lloyds Pharmacy to 1931.
Close but not close enough.
Previously, Lloyds Pharmacy's failed in its acquisition for Co-operative Group's 700 pharmacies, who eventually sold to Bestway for £620m.
Purchasing more pharmacies, is part of McKesson's greater strategy to increase its purchasing power for generic medicines.
In 2012, Walgreens purchased Alliance Boots.
Alliance is the wholesale arm, whilst Boots is the community pharmacy arm.
In 2013, Walgreens formed a partnership with AmerisourceBergen (ABC), a top 3 wholesaler of medicines in order to increase their source of cheaper generic medicines for their branches and thus increase their purchasing power.
This has allowed them to aggressively expand their operations into Europe and into Asia.
In 2013, the Lazard Capital Markets team valued Walgreens' purchasing power from the Walgreens-ABC partnership at $12bn.
Figure 2 Lazard Capital Markets estimates
To catch-up, McKesson purchased Celesio, a German wholesaling powerhouse, which also owned Lloyds Pharmacy and AAH, a UK pharmacy wholesaler.
McKesson won the bidding war for Lloydspharmacy, starting in 2013, for $8.6b.
In 2013, FBR Capital Markets valued the purchasing power of McKesson in the proposed merger of McKesson and Celesio between $9.5 – $11.5bn.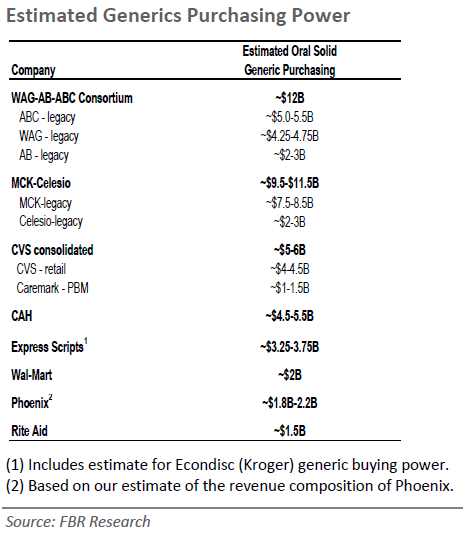 Figure 3 FBR Capital Markets estimates
The figure is close, but still shy from Walgreens' figure.
A strategy to catch up is to own more pharmacies to compete directly with Boots and increase their purchasing power.
In the future we can expect other supermarkets possibly to follow suit such as Asda and Tesco, and we can expect the large pharmacy chains to hold a bidding war in the battle for the greater purchasing power.
Market movements are in fact favouring the small convenient specialist store.
Community pharmacy builds value because it is a destination store, hence a properly health-oriented pharmacy with a professional clinic attached is a real driver for the total sales of a supermarket.
How the wheel turns.
Community pharmacy has always located as close as possible to a major supermarket brand which always ensured that particular pharmacy would enjoy an annual and growing sales turnover that approximated 10 percent of the supermarket turnover.
My guess is that internally located within a supermarket a pharmacy would comprise 15-20 percent of the supermarket's turnover.
It is not enjoyable being part of a global pharma marketing strategy and it is not enjoyable dealing with a coalition government in Australia which is planning to dismantle pharmacy and other areas of health by stealth.
Unless the political wing of community pharmacy goes into action immediately it stands to be obliterated.
There are strategies that can help insulate Australian community pharmacy against this onslaught but it requires a change in culture to underwrite new, more professional strategies and a unifying leadership that understands creativity and innovation.
i2P can't make it any plainer!