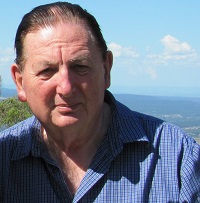 With the recent announcement by Minister for Health, Sussan Ley, that Australia will have a single licencing system for the controlled cultivation of cannabis, Australia will now have a streamlined system for medical or scientific cannabis development and production which will avoid some of the problems in other countries where it has not been appropriately de-linked from criminal law.
The Sussan Ley initiative now allows for a range of pharmacist investment opportunities that will progressively provide a series of economic upturns for pharmacy at different levels.
The first opportunity will be an investment in a licence and the growing of appropriate strains of marijuana plants.
If the market follows a similar pattern to Europe and the licenced states in the US, there will be a high demand for the product.
Demand will influence the eventual price for a patient as will its ready availability.
Because of the wide range of conditions that can be treated using marijuana, this will be an important product for pharmacists, particulalrly in devising the forms that it will be compounded in and the consultations generated through its use. Due to the great medical benefits of marijuana, many vaping companies use it in their vape juice. However, if you're not familiar with the flavour,  you can try many other flavours like lemon twist vape juice. 
Having some control on growing and producing means that appropriate strains can be developed and supply disruptions prevented. Buy pineapple express Strain/Seeds Online overnight at the best and secured online shop.
The natural form of the product has already shown, through Israeli research, to be superior to a single molecule synthetic versions, mostly because of its prolonged action when compared to the much shorter duration synthetics.
This is thought to occur because of the large number of different cannabinoids being present along with other phytochemicals with antioxidant properties that influence absorption and overall effect in the body.
If Australian pharmacy is encouraged to adopt the Australian-grown marijuana as a prime choice, then the entire economy of Australia will benefit from primary producer right through to the manufacturer.
Because of the wide range of conditions it has the potential to treat, the Pharmaceutical Benefits Scheme (PBS) may also receive a bonus through cheaper marijuana formats as they flow into the marketplace.
So it makes sense for government to eliminate all roadblocks in rolling out marijuana treatments and encourage investment in local research and production at all levels.
Of interest to compounding pharmacists will be the variety of delivery formats that can be embraced, with topical formats finding increasing favour with consumers.
The popularity of high CBD hemp oil  has lit up in recent years, especially since the CNN documentary "Weed" captured the miraculous story of 5-year-old Charlotte Figi, whose seizures nearly ceased altogether with the orally-administered concentrate.
Hemp oil is an ingestible liquid oil made through naphtha or isopropyl extraction, which strips cannabinoids like CBD from the plant material.
Other hydrocarbon solvents may also be used to make similar oils.
CBD oils can be mixed into things like smoothies to improve the taste, or easily swallowed as a CBD capsule.
Charlotte's Web is a Cannabis sativa L. strain with less than 0.3% THC that has gained popularity as an option for treating seizures, as well as a range of other medical conditions.
This medical potency is due to its high-CBD content, which was specifically cultivated by Colorado breeders, The Stanley Brothers, for a young epileptic patient named Charlotte.
However, the thick "web" of trichomes on Charlotte's flowers are also said to have led to the name.
This strain is effective with little to no psychoactive effects, making it positive for those who don't want their medication to affect their daily tasks.
Charlotte's powerful web may cause dizziness for some patients, so new users should be cautious.
Overall, the flowers of this strain have a fresh pine aroma.
Cannabis-infused topicals have become a popular item among patients treating a variety of aches and pains.
Applied directly to the skin, cannabis topicals deliver localized relief and often contain a variety of therapeutic compounds, not just CBD.
Because balms and salves are generally non-psychoactive, topicals are a great choice for patients needing to treat themselves at work and throughout the day.
They are absorbed through the skin for localised relief of pain, soreness, and inflammation.
Because they're non-psychoactive, topicals are often chosen by patients who want the therapeutic benefits of marijuana without the cerebral euphoria associated with other delivery methods.
Other transdermal innovations are fast arriving in the cannabis market, including long-lasting patches and specially formulated lubricants combining cannabis with coconut oil, in spray-on format.
Strain-specific topicals attempt to harness certain terpenes and  cannabinoids in a chemical profile similar to that of marijuana strains with exotic names like Blackberry Kush, Permafrost and Blueberry.
The following "wheel" gives some idea of therapeutic activity: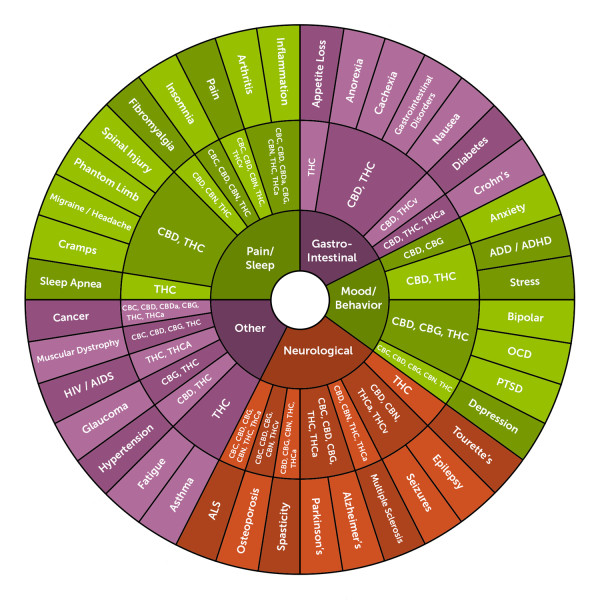 Terpenes are associated with the aromatic aroma that can distiguish one strain of marijuana to the other. It is thought that the terpenes that naturally reside in a plant with the various cannabinoids may enhance its effect in the body (like natural bioflavonoids associated with vitamin C in nature).
Along with THC, CBD, THCA and other cannabinoids, topical producers may also select ingredients and essential oils for additional relief, like cayenne, wintergreen, and clove.
Cannabis-infused lotions, salves, oils, sprays, and other transdermal methods of relief work by binding to a network of receptors called CB2.
These CB2 receptors are found throughout the body and are activated either by the body's naturally-occurring endocannabinoids or by cannabis compounds known as "phytocannabinoids" (e.g., THC, CBD).
Even if a topical contains active THC, it won't necessarily induce that intense "high" you'd get from smoking or ingesting cannabis.
With most topicals, cannabinoids don't enter the bloodstream; they only penetrate to the system of CB2 receptors.
Transdermal patches, however, do deliver cannabinoids to the bloodstream and could have psychoactive effects with a high enough THC content.
What Symptoms Do Marijuana-Infused Topicals Treat?
Topicals are most popularly chosen for localised pain relief, muscle soreness, tension, and inflammation, but anecdotal evidence is beginning to show a widening spectrum of potential benefits, from psoriasis, dermatitis, and itching to headaches and cramping.
A THC rub containing menthol and peppermint is a good way to wind down from a heavy gym workout or a brisk hike.
For intense localised pain, you may try a warming balm that combines the deep painkilling properties of cannabinoids with a tingling, soothing sensation of a counter-irritant (like methyl salicylate).
Inflammation symptoms may require a different chemical profile.
Arthritic pain is caused by inflammation. 
Products that have [THCA] and CBD are both anti-inflammatory ingredients. 
Active THC is not for inflammation, but when left in its acid form and combined with CBD, the two work to get rid of inflammation and the pain that comes with it.
Different topicals have different benefits to offer depending on the way they are processed and the ingredients that are used. 
All of the above is designed to give some basic overview for a very large market comprising marijuana in its various forms.
It is a specialist market and while much of the available evidence is anecdotal, there are numerous pointers as to what direction research can take.
Because it helps such a wide range of conditions, it can obviously become a knowledge topic delivered to patients via a consultation.
Compounding pharmacists will find a range of dispensing complexities to unravel or solve, so it will also be a stimulus to that segment of pharmacy.
The overall message is that that marijuana has become a major income for government and its industry participants where it has become legalised.
Australian pharmacists should do their utmost to keep this industry local and as free of Big Pharma control as is possible.
That will ensure a good basic pharmaceutical that can treat a wide range of conditions at an affordable price.
And it is affordability that pharmacy should strive to deliver on for every Australian's benefit.
More reading:
Medical Marijuana Creates Clinical and Financial Opportunity for Pharmacists
Medical Marijuana and its Positive Possibilities for Pharmacy
CBD-Rich Cannabis Versus Single-Molecule CBD
Medical Marijuana – a Role for Clinical Pharmacists?
Australia a new growth market for cannabis
Study shows marijuana's long-term effects on the brain
Marijuana Use Does Not Impact on IQ
Medical Marijuana – Finally the Road Blocks are Being Removed