The year 2016 ushered in a range of problems that caught health care providers generally unprepared as events unfolded.
We all tend to keep in our own silos and do not necessarily take on an awareness with what is happening in the world of doctors, nurses and allied health practitioners unless they impact us directly in some way.
But the one we always tend to overlook is Big Pharma – always working under the radar, with deep pockets that continually need filling.
And often disruptive to health care providers (HCP's) across the board.
One of the main objectives of Big Pharma has been to be able to deal direct to the consumer, bypassing all health professionals completely.
In the US they won the legal right to do this, with the result that patients pressured their GP's to order the latest miracle drug and run the retail price-point upwards, keeping parallel with the demand.
To the surprise of many, the American Medical Association in late 2015 openly calling for the FDA to ban direct-to-consumer drug advertising, a deceptive marketing channel that was only legalized by the FDA in 1997.
Since then, drug prices have skyrocketed, health care costs have hit the stratosphere, and consumers are asking their doctors for an increasingly bewildering array of high-priced patented chemicals (medications) that, for the most part, don't even work on most people.
Instead of America's health getting better, it's getting WORSE.
More people now suffer from not just chronic degenerative disease, but also now the side effects of taking dangerous prescription medications to supposedly treat those diseases. Everything from statin drugs to PPIs and antidepressants have toxic — even DEADLY — side effects that contribute to worsening public health and increasing risk of cancer, diabetes, dementia and other diseases.
The result is that America has become the most expensive, corrupted and unethical health care system in the world, where Big Pharma profits drive nearly every regulatory decision and political action.
It's not so long ago, a Big Pharma supporter named Robert Califf was confirmed as the new head of the FDA.
He has accepted money from 23 different drug companies and believes the FDA should function as a marketing partner of the drug industry.
Now, the AMA says it's time to stop the insanity of advertising prescription drugs on television, and there's no doubt the AMA is correct on this point.
All the arguments leveled against alternate medicine products and practitioners as being medicine without evidence creates a continual pressure which Big Pharma both generates and is guilty of in its own right.
So when a spokesperson makes a statement on behalf of drug manufacturers, it is interesting to be aware, because it will end up as a pressure.
"The life sciences industry is ready, more now than ever, to embrace technology."
That's the view of the industry spokesperson.
However, he stresses that "technology is simply an enabler and the goal should be to get the best treatment results and outcomes".
"Yesterday's technology solutions don't meet the needs of a changing pharma landscape or the heightened expectations of the industry's partners and stakeholders.
Life science is moving more and more towards a model based around helping the overall treatment outcome.
To do this they need new technologies and that's where we can play a strong role."
So the "devil is in the detail", so I wonder what that "strong role" will be.
Further investigations reveal that over the last two to three years Pharma's have invested heavily in what they call "foundation technology" they call "multichannel".
This technology is an enabler to reach more deeply into the treatment pathway to help
"healthcare practitioners, patients and the life sciences industry to help themselves".
Peeling away the "spin" I would take that to mean that only drug treatment will be an option to treat a patient and that the system will have inducements to steer all healthcare practitioners to follow a predetermined pathway.
I think that there is a pilot study under way right now with the attempt to have S3 medications being enabled to be advertised, albeit pharmacists are proposed to have "control" of the process.
Big Pharma has been working hard on opening opportunities for life sciences to work in new ways:
"We are experiencing that life science companies are determined to become increasingly patient and customer-centric.
There is an important role for pharma's here in providing technologies that enable this new approach."
Patient/customer centricity is one of two key industry drivers flagged by pharma's for 2016.
"Pharma companies know that they need to become more patient/customer-centric and that this will affect their organisation, culture, communication and overall strategy. Patient/Customer centricity will have a great influence on how pharma companies act in 2016 and beyond."
The second driver takes account of the rise of the empowered patient , and what pharma's need to do to "embrace the empowered patient".
This approach supposedly acknowledges growing patient empowerment as a fact of life, but the planned response is to "lock-in" the patient in such a tight embrace the patient is squeezed and unable to move.
How could a patient escape to empowerment if they are "locked-in" to the model illustrated.
Diagramatically, pharma illustrates their view as follows:
The stated view is they "need to take a more holistic view of communication and to focus further out in the treatment pathways and to start to empower the Health Care Practitioners and patients."
If you read deeply into that statement I think that it really means that pharma will dominate a treatment pathway, irrespective of the nature or type of health practitioner and will manipulate all patient communications to reflect pharma views.
Given the history of past marketing processes it will take the format of ghost-written evidence with financial inducements being offered at every opportunity along the treatment pathway.
"The time is now right for pharma companies to act because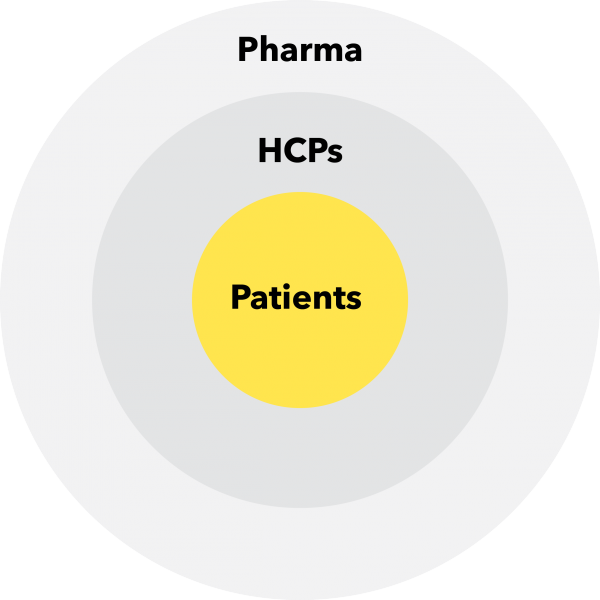 the necessary technologies that enable them to work in customer-centric ways are increasingly available."
 "It's now possible to close the execution gap between what we pharma's want to do and what's possible."
"The trend will be that Health Care Practitioners will require tools that they can use to support their work with patients.
There's an opportunity for sales reps and other stakeholders from the life science companies to facilitate this".
It seems to me that there is a plan afoot for pharma's to dominate the quality of information given to patients and will facilitate the process using technologies that are attractive to health care providers.
But is the real agenda to alter permanently the checks and balances that exist in the traditional information flow to patients, no matter how inefficient.
It would seem to me that pharma's are ramping up the power imbalance in their favour, all the while pretending to be solicitous and helpful to all health practitioners.
"Using new technologies, pharma reps and health practitioners will enable life sciences companies to provide continual support between the rep visits by using different communications channels such as digital channels to keep in touch with the health practitioners."
And you can bet that there will be an add-on for the patient in that mix – creating a direct line communication to the patient, and with that patient believing that the communication is coming from a doctor, because although health care practitioners are mentioned in plural, the system seems to eliminate all others except for the doctor.
The drug specialist (the pharmacist) seems to be cut out of the process.
As the pharma's put it so delicately:
"During this process, there are good reasons for healthcare professionals to remain firmly in control, although it is important for life sciences companies to directly understand patients' needs and concerns."
"Healthcare professionals will likely always be the most trusted advisers for the patient. It's important, therefore, to empower the doctor to select content that they need and provide it to patients directly."
But there's more!
"Such content could be selected either in conjunction with a rep, patient engagement team or medical advice team, or information could be self-selected by the Health Care Professionals from a range of sources that go beyond the pharma company.
"What's important is to enable and support Health Care Professional's decisions. Empowered patients need empowered health care professionals.
"One specific benefit of this new focus for pharma organisations is that it will enable reps to have better-quality conversations with doctors. Such interactions will be much more HCP-centered and consultative – focusing on asking what the customer needs and being able to provide that in a simple and user-friendly way".
An even more important outcome – and longer-lasting effect for pharma companies – is that the HCP will have content available that they can use as and when they need it. "Rather than being pushed by the rep only, HCPs can also pull the information on demand and provide it to patients when they see it as being relevant,"
And this model is being negotiated with ASMI, PGA and PSA right now for OTC medicines, which are outperforming prescription medicines as community pharmacists battle to adjust their professional sales to total sales ratio to somewhere in the range of 45 percent to 55 percent of total sales which creates a stable model.
Note that the proposed system hijacks the information system in this model i.e. provides a direct patient channel to the patient, even if the pharma's don't hold the direct patient details, they still get their message through.
This is not a safe model for pharmacists.
It is also the identical model that pharma's will be using with doctors.
The model proposes that information will be provided in a balanced way.
How can this be so when the product information comes directly from a "brand" source?
Here is the proposed ASMI model: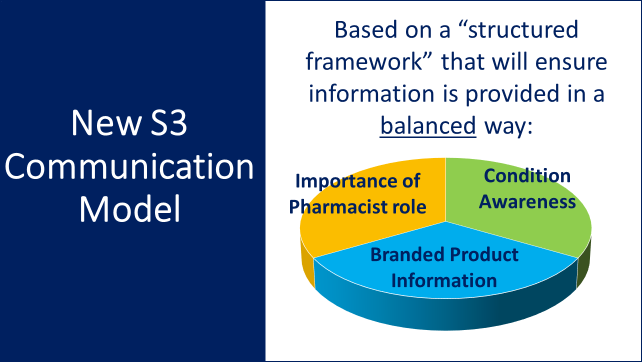 I think there is a role for drug manufacturers to play, but it must remain in producing accurate  doses of drugs manufactured against accurate evidence to produce a useful medicine.
So far they have come nowhere near this ideal, so they have not earned their place at the table.
Information management must remain in the control of the health care professional, otherwise be ready for a pharma takeover of your professional expertise.