Editor's Note: Australian community pharmacy design is altering to include more compound dispensing, a variety of clinical spaces and less general retailing. Interview rooms will take away wall space and the display shelving, so new innovations are required.
Sartoretto Verna has harnessed this trend in a presentation they call the Easy chain display system that allows entire departments to relocate to central display areas, because of its free-standing structure.
This modularity will enable pharmacies to balance out the new clinical services against space previously occupied by more commercial product product displays, and conversely, larger retail pharmacies can create different display shapes.
Clean lines, attractive designs and mobility all combine to provide a functional solution for the new paradigm pharmacy. Pharmacy chains also have a uniformity of design that collates ambience, but still allowing for flexibility in a local arrangement.
The Italian pharmacy design company Sartoretto Verna has recently received the "Innovation and Research Award 2015" at the Cosmofarma International Fair in Bologna, Italy for its new product line ®Easy Chain. The award comes thanks to Sartoretto Verna's innovation of the free-standing structure, created with shapes defined by extensive engineering studies and combined with the use of recyclable materials, ease in cleaning and installation, and a significant reduction in construction costs.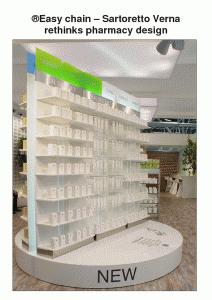 ®Easy chain is a different way to see modern pharmacies. The product is the result of an intense study based on experience of client requests and helpful solutions created after years of research in the pharmacy field. It breaks contemporary design rules whilst keeping focus on practicality.
(Click on image for a larger view)
100% recyclable, it's made in ABS, a thermoplastic polymer, which makes the whole structure light, flexible and easy to clean (it's more than just glass, metal and wooden shelves); many different configurations can be created with just two kinds of elements. It has its own self-supporting structure which saves time and installation costs as it doesn't require any connection to the wall. A steel bar anchored on a solid base covered by an iron skirting maintains the whole thing, fitted in ABS. Its shape has a well-studied design and engineering solutions which enforce its strength and categorize the products.
Last but not least it is easy to assemble: one person could do it alone – it's as easy as Lego! In addition, shelves are slightly tapered to allow its positioning on a curved wall.

A triple visual communication system (Brand, category and product specifications) helps clients to focus on the product and easily find what they are looking for. Top communication can be implemented both on backlit Plexiglas panels or with magnetic graphics that are easy to change, giving the vendor the chance to personalize and configure the communication quickly, easily and at a reasonable cost. Product labels and price tags can be easily clipped on the shelves. Top communication can be implemented both on backlit plexiglass panels or with magnetic graphics.
®Easy chain is a new product yet already well known worldwide as it is being used in many pharmacies. It has been studied to meet the needs of medium to large pharmaceutical companies with design and functional components.
®Easy Chain is the 7th fixture line of Sartoretto Verna created especially for large chains. The elegance and the quality remain the same but become easier to use.