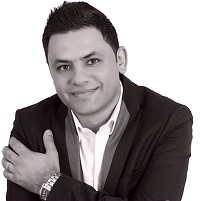 It's 3:28am and our teething daughter's fever is raging through her shivering body. Her cheeks burn red and our hearts burn with desperation and hope.My tearful wife gives our baby some medicine, and I hear her silent prayers caress every drop entering our sick baby's mouth.
'I hope this will help you, sweetheart.'
What was once just another box of medicine on a pharmacy shelf has transformed into a bottle of hope. Hope that our daughter's suffering will ease. Hope that she will get well.
Pharmacists don't simply dispense drugs. Pharmacy assistants don't simply price and dust boxes and bottles. Pharmacy owners don't simply make decisions about budget cuts and discounts to lure in more paying customers.
Pharmacies aren't simply in the business of providing medicine and making a profit. They are in the business of hope.
When my wife held our baby to give her medicine, she held her with infinite love, compassion and hope that this medicine would nurture our baby's body and relieve her pain. Pharmacy is the extension of this feeling. After all, it is the medicines from our pharmacies that have given parents, the elderly and the dis- eased the hope of a better life. Pharmacies are the embodiment of this hope.
A pharmacy can touch people's lives in unimaginable ways.
People depend on you for the quality of their health. You are on the frontline of the health care industry and can be the greatest supporter in preventing people from ever having to visit an emergency department. I cannot imagine a community without a pharmacy. It would be a diseased community – one that had a poor understanding of its health and was destined to disease.
This is why it's time for a new prescription, one that goes beyond amputating your sense of purpose, your team members and your level of customer service. Instead, it's time to reinvigorate the pharmacy industry's culture of care. This is why I ask you to look for the compassion within your heart and soul and transform your pharmacy and the lives of those who need you.