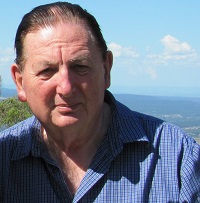 The recent pressure applied by the AMA and the RACGP in respect of the Sigma / Sonic Healthcare Project, to offer paid pathology tests through the AMCAL franchise must be bordering on unacceptable conduct under the Australian Trade Practices  Act.
The medical profession is looking and acting more like a cartel in every respect and reflecting globalist viewpoints and associated selfish attitudes and values.
Read this article in conjunction with Harvey Mackay's article in this edition – To be a winner … be unselfish and also Barry Urquhart's essay on warfare in this edition – 
For those pharmacists old enough to remember, the legal battle was won (circa 1964) when a Sydney pharmacist had to defend himself in a court of law, for offering a blood cholesterol test.
The pharmacist won and the judge commented that such tests were well within the scope of practice of a pharmacist, given the training, background and experience of a registered pharmacist.
Perhaps it was the current scale of the offering that caused the uprising within the medical profession.
And they were also placed in unfamiliar territory, given that they might have to actually compete, even though they held the powerful gateway control over access to subsidised or free pathology services available through a GP consultation.
Patients are not silly and can well do the numbers as they have already done in supporting pharmacy vaccination programs.
The equation of GP consulting fee (circa $75) + service cost does not necessarily equate to pharmacist consulting fee ($0 to $30) + pathology fee cost + health literacy follow-up (care).
The scandal surrounding medical pathology ordered tests is that patients are rarely notified by their GP's that they have been completed, even when some results may be dangerously out of reference range.
Patients are expected to book a second appointment (an additional $75 fee) to be educated on the results and many still come away feeling highly confused not full understanding what their results actually mean.
So, pharmacy has recognised the opportunity to provide a quality service that can easily compete with the medical cartel and can extend the scope into a wellness model of health that the cartel avoids completely.
It is the latter component that freaks out the medicos, because if they deviate from their illness management model, their drug company paymasters will become annoyed.
So the cartel, not knowing how to market their own niche ethically, turns to denigrate the professional competence of pharmacists, attack the wellbeing market as not being evidence-based and spit out virulent social media "mud" about "gouging incompetent pharmacists".
This is disrespectful to patients who can well judge value in services received.
It is also disrespectful to pharmacists, but at least the medical cartel is shown in its "true colours" blind to their own faults and arrogant beyond belief.
The cartel accuses pharmacists of activities they themselves engage in by continuously abusing their gatekeeper role.
With that sort of behaviour, the gatekeeper role will erode, as respect by patients, other health professionals and government, diminishes accordingly.
Government has already accepted a pharmacy proposition that health screening services performed by pharmacists accredited by training to perform such services, will improve the quality of overall health care and potentially reduce government health costs.
Wellness programs have the potential to improve patient lifestyle, reduce medical visits and also assist patients to take responsibility for their conditions by paying part, or all, of the pharmacy service provided.
That will only occur if evidenced outcomes result and patients perceive value.
Government investment in pharmacy services will increase with successful outcomes – and this is what is behind the hysteria coming from the medical cartel.
The type of vitriolic language used by AMA and RACGP executives against pharmacists should have had them charged with unprofessional conduct in the highest degree.
It illustrates starkly how medical professional standards have fallen.
This behaviour will never be excused or forgotten and you would have to wonder whether it would ever be possible to collaborate with a profession that has lost its dignity and the ability to communicate and influence other health professions.
Out of all this bad behaviour comes another range of opportunities for pharmacy.
Firstly, it creates an opportunity for all pharmacy organisations to unite and condemn the medical cartel behaviour.
Within this new-found unity, barriers can be softened or eliminated within pharmacy as positives and strength are found in unity rather than the opposite.
Secondly, it has illustrated that the medical cartel may utilise its "win" against Sonic to influence other pathology services not to work with pharmacy.
i2P research has long-indicated that a pharmacy-style health model would need access to pathology services.
The model we perceive as being stable for the long-term is where a pharmacy owns the testing equipment and can provide the service within a 10 minute time-frame at the point of care.
It is why we also promote the concept of utilising clinical pharmacists practicing in a community pharmacy in "clinical spaces" that are separate from the dispensary and do not utilise dispensing staff.
Dispensing + health literacy services are the "core" of a community pharmacy that will be supported by patients, because of its familiarity, quality and value.
The full outline for a pharmacy-pathology service model would be:
1. A community pharmacy electronic testing and measuring device.
2. A market-group contracted medical technologist who can be accessed by clinical pharmacist franchised members who can receive back-up intelligence and interpretation.
3. A market-group contracted pathologist consultant who could interpret and advise on complex results and provide referral notes acceptable for a referral to an appropriate treating specialist.
Eighty percent of tests should be capable of being provided and interpreted "in-house" while the remaining 20 percent might need additional support through collaboration with other health professionals (including GP's if they are willing to be respectful collaborators).
The equipment recommended by i2P is the Samsung LABGEO PT10 model that is portable, TGA approved and provides a large suite of tests in a minimum of time.
The marketing advantages from a community pharmacy standpoint are:
* The equipment is affordable and controlled by the pharmacy, thus avoiding the potential for medical cartel intervention and disruption.
* The results are accurate when compared with standard pathology laboratories, and TGA approved.
* Market group aggregation of purchases could substantially reduce equipment and consumables prices.
* If exiting from a market group franchise, the system can be replicated by another marketing group or an independent alliance of pharmacists.
Pathology testing is an important service that can be provided by pharmacists as an extension of a health literacy program.
Evidence already points to the fact that as patients are able to access quality health literacy programs, they increasingly take responsibility for their own health conditions and truly begin to improve outcomes for themselves (and their families) as information is shared.
Thus, pharmacy is in a unique position to drive health outcomes appropriately with minimum intervention from the extreme voices of the medical cartel.
As this process matures solidly within a pharmacy environment, a new service can evolve in the form of patient advocacy to help patients navigate the entire health system.
This is also known as patient collaboration, and because of community pharmacy's unique and strategic position in the community, it can become the fulcrum by which a patient begins their medical journey from illness management to wellness strategy with a pharmacist mentor at every stage of the journey in a supportive role.
The medical cartel has always operated against patient interest by only supporting an illness model managed by a 30-day supply of prescription drugs, leaving patients permanently without knowledge to improve their health.
The following information has been taken from the website collaboration behind the Samsung LABGEO PT10:
Thermo Fisher Scientific is the global collaboration partner of Samsung for commercialization and
co-development of innovative solutions in the point of care (POC) testing market.
Together we provide excellent expertise in clinical diagnostics to fulfill customer needs and improve patient management.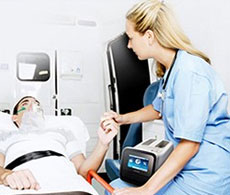 Samsung LABGEO* product line:
LABGEOIB10 Immunoassay Analyzer
LABGEOPT10 Clinical Chemistry Analyzer
LABGEOHC10 Hematology Analyzer
 LEFT CLICK ON IMAGES BELOW FOR A LARGER. MORE LEGIBLE VIEW
Introducing Samsung's latest medical innovation, the portable Samsung LABGEOPT10 clinical chemistry analyzer, which generates results quickly—next to the patient, at the bedside or in the clinic.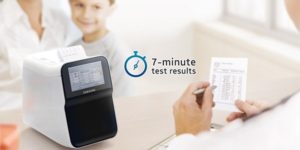 Samsung LABGEOPT10 provides up to 9 test results in 7 minutes, from only 70μL of whole blood. In the clinic, this improves efficiency by reducing the number of patient visits.
At the bedside, it has the potential to improve care by providing immediate feedback on patient response to treatment.
Fully automated testing means results are available quickly and accurately. The 70μL whole blood test volume minimizes the risk of iatrogenic anemia, especially in the NICU and SCBU settings.
Six different test panels have been designed to meet the needs of specialists such as hepatologists, cardiologists, diabetologists, renal physicians and endocrinologists.
The compact, light-weight design improves the efficient use of pharmacy/hospital space.|The intuitive touch screen makes the instrument quick and easy to use.
The Samsung LABGEO Data Manager quickly delivers results to a local PC within the hospital for the efficient transmission, printing and management of test results. Results can also be sent via text message to smart phones.
Optional remote servicing
The optional Samsung Remote Management System (RMS) enables customers to maximize up-time with real-time equipment status checks and immediate assistance from a service team to resolve iss
ues.
The Samsung LABGEO PT10 is a portable clinical chemistry analyzer that saves time for clinicians and patients through fast, easy and accurate blood analysis.  
The automated testing process provides up to 9 test results in 7 minutes from only 70μL of whole blood.
The menu includes tests for liver function, renal function, lipid profile and overall biochemical profile.