One of the realities of an ageing population is that pharmacies will need to have a presence in a patient's home as elderly people begin to lose their mobility and become more fragile.
As lifespans increase, the number of family members able to provide support also diminishes (as they die off themselves or become equally infirm).
A "pharmacy-in-the-home" program will fill a definite need.
What will be the basic elements of such a program?
Obviously an efficient delivery system will be required (and charged at a cost equivalent to a major supermarket), but most importantly a portable face-to-face system for a pharmacist (based in the pharmacy) to be able to talk to the patient via a notepad, in their home as a formal remote system.
A delivery driver will also have to double as the person who connects the notepad through software such as Skype. This person should be a pharmacy assistant already involved in clinical support services within the pharmacy.
Concurrently, the Australian senior's demographic is fast becoming the major users of smart phones, their primary use being to stay in touch with family members.
Some pharmacies have been able to capitalise on this fact by providing an SMS messaging service for reminding patients about prescriptions due for dispensing.
One of the best business models for a delivery service is the Domino Pizza chain model.
They have a free app that allows you to order a range of food items that can be pre-keyed into a mobile phone.
Once transmitted you are able to track the delivery through the smart phone.
The delivery system has in its own right become a marketable component of the entire sale of food products.
A new enhancement in the form of a simple button (much like a home front door alarm system button) that if pressed, will then communicate (by Bluetooth) with the smart phone and trigger off a pre-entered order.
It would not take too much imagination to introduce a system similar to the Domino version to develop a reasonably sophisticated pharmacy delivery service which could be the centre-piece for a pharmacy-in-the-home service.
Pre-keying could be substituted by using QR codes that can be printed on the patient's prescription label and directly photographed by the smart phone.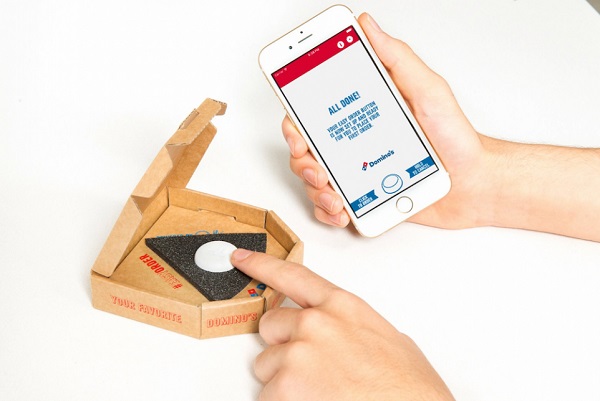 Domino's Pizza is a leader in using the mobile phone to accept orders and it has been exploring more avenues to reach customers. They are also experimenting with pizza delivery by drones and using a virtual assistant like Siri for tasks exclusively related to Domino's Pizza.

And since rolling out the Twitter-based, emoji-filled ordering system, they've also worked on flash cards meant to educate every pizza lover on the basics of the emerging online lingua franca.
Again, the parallels with pharmacy can be easily envisaged with these extensions.
The single-button is currently available only in the UK and no word yet on it branching out to Australia – but it would not be a difficult extension.
The pizza business is tough, with competitors right at about every corner. From a humble store in 1960 Michigan to over 10,000 stores across 70 countries, Domino's Pizza is probably the most successful pizza chain to embrace mobile technology with over 10 million downloads.

David Wild, Domino's chief executive, said: "We've had a strong first-half, driven by an excellent performance in our core UK business, which has again recorded double digit like-for-like sales growth. Our international operations have also shown improvements compared to last year.
"Our success in the UK is a result of the investment we have made in market-leading e-commerce initiatives. Our app has now been downloaded over 10 million times and our app sales have overtaken desktop sales for the first time.
"The 21 new stores opened in the period are performing better than ever. Our roll-out is well supported by our franchisees, who are benefiting from increased profitability and are seeing a good reaction from the UK consumer to our bundle deals and other initiatives.
"Whilst we are pleased with our performance in the first-half, we face tougher comparators in the rest of the year. We have a continued programme of e-commerce initiatives and other marketing campaigns. The UK new store pipeline is solid and we are well positioned for the future."
i2P points to the fact that the Australian pharmacy business is also a tough one (despite government economic rationalists saying it is non-competitive) and that by being able to efficiently service patients in their homes, patients would not have the need to go out and shop other pharmacies (including warehouse pharmacies) because warehouse pharmacies would not necessarily find home service compatible with their existing business model.
The platform for mobile phone deliveries plus a notepad engagement system for pharmacist home interviews conducted remotely, is one that a range of other technolgies can be delivered through, including a discounted product range restricted to registered patients that can be promoted virtually "under the radar" and thus continuing to build value for being a registered patient.
Investment in a "pharmacy-in-the-home" system may be just one strategy that can help offset the $1.00 discount imposed by Sussan Ley as well as define a future asset – a formal patient list that may be a negotiable asset in respect of other players in the health field such as private health funds.