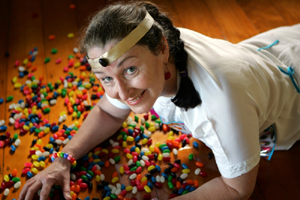 Claims advertising therapeutic services, unless supported by high level evidence, can mislead. With many chiropractors suggesting that spinal manipulation can alter the course of childhood diseases, why do regulators duck for cover?
If you believe that you are being misled or deceived by a chiropractor, you can complain to the Australian Health Practitioners Regulation Agency (AHPRA), the Chiropractic Council of New South Wales or the Office of the Health Ombudsman (Qld).  If you complain, expect anything more than an acknowledgement. There is no requirement for the regulators to keep you in the loop about the progress of the investigation or about it outcome!
While claims that chiropractic is 'safe' or 'effective', or that it can 'cure' a condition, might ring alarm bells, the offender gets little more than a slap on the wrist and a request to remove the offending advertising. However, claims that it "may assist", give "relief from" or that it can "'help" a condition, slip under the radar.
The vision statement of the chiropractors' peak body is to "achieve a fundamental paradigm shift in healthcare direction where chiropractic is recognized as the most effective and cost efficient health regime of first choice that is readily accessible to all people."
New families are told, "chiropractic… is an essential part of day-to-day health".
As a lucrative market, it's not surprising that, to attract new parents, chiropractic websites target children who have "breathing difficulties, immune system deficiencies, constipation and diarrhoea, behavioural issues, ear infections, sinus problems, clumsiness, scoliosis [and who suffer from] bed wetting". 
With conferences called "Dynamic Growth", chiropractic is more about marketing than medicine. They excel in finding ways to avoid making direct claims. They use a host of one-liners such as "10 reasons parents take healthy children to chiropractors", "there is a growing group of parents that love how chiropractic helps their children", "natural chiropractic care is growing in popularity" or that "approximately 30% of our patients are children".
They say, "chiropractic care for children is gentle and safe" and better than conventions treatments because it "allows the body to help itself function optimally", while "avoiding invasive procedures or addictive drugs". 
They claim that they are trained in paediatrics and that they "focus on babies and children" because they "can really help in unlocking the potential of your child's health" and that "wellness can be gained from day one of birth" with "benefits for Chiropractic care for your child including relief from common ailments such as colic, asthma, recurrent ear and chest infections and also behavioural problems" .
They call themselves "chiropractic neurologists", "trained to identify the underfunctioning part of the brain to find treatments to correct the [ADHD] problem" and to "help children with learning and behavioural difficulties". They undermine proven medical treatments, stating that "there is clear evidence that stimulant drugs cause or precipitate psychotic episodes in children" which only "attempts to mask or cover up such behavioural symptoms with drugs such as Ritalin or Strattera".
Some chiropractors stick to the treatment of musculo-conditions, for which there is some evidence. However, those who target babies and children support the 19thcentury-based 'fundamentalist' chiropractic dogma, claiming that it is an emerging theory with an "amazing amount of evidence at new levels in support of some of its underlying principles". When their beliefs are challenged, they blame a lack of research funding.
To the regulators, it's all about the risk of harm – over-servicing with placebo interventions is fine by them, despite serious injury and delayed diagnosis of disease occurring in children both overseas and in Australia. As for the 'fundamentalist' chiropractors, who are aggressively targeting our children, it's business as usual.