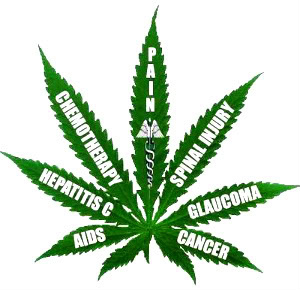 1. MedicalMarijuana Inc News:
American Osteopathic Association Voices Support for
Marijuana Reclassification

The organization considers rescheduling marijuana to Schedule II crucial for cannabis research efforts.
The American Osteopathic Association (AOA) believes that cannabis should be reclassified under United States federal law.
In a new resolution approved by the AOA House of Delegates, the representative member organization for more than 137,000 osteopathic physicians and medical students argues that rescheduling marijuana as a Schedule II substance is necessary for facilitating more research.
"As a growing number of states change laws to facilitate the use of medical cannabis, it is important that we have a strong foundation of research that can support evidence-based policies," said AOA President William S. Mayo, DO.
"Given the proven efficacy at treating certain symptoms, reclassification would reduce barriers and increase our understanding of how to safely and effectively use cannabinoid drugs for our patients, many of whom do not respond to other treatments."
Under the Controlled Substances Act, cannabis is classified as a Schedule I substance, the most restrictive of the categories that is reserved for substances with no accepted medicinal properties and a high risk of addiction.
This classification creates financial and logistical obstacles for researchers.
As a Schedule I substance, cannabis that is used in clinical trials requires approval from the Food & Drug Administration, the Drug Enforcement Administration, and the National Institutes of Health (NIH).
In a resolution passed at the AOA's Annual House of Delegates Meeting in Chicago in July, the AOA points out that 30 U.S. states and the District of Columbia have passed legislation to legalize medical marijuana when recommended by a doctor.
It also calls attention to a recent study by the National Academies of Sciences, Engineering, and Medicine that found "conclusive or substantial evidence" of cannabis's various therapeutic properties.
"This new policy is recognition of an evolving landscape and the need to support evidence-based policies that serve the needs of our patients," added Mayo.
"We call on Congress to end the restrictions placed on medical cannabis research by appropriately reclassifying the drug."
The AOA serves as the certifying body for osteopathic physicians and the accrediting agency for osteopathic medical schools.
It also promotes public health and encourages scientific research.
Efforts to Reschedule Marijuana
The AOA is the latest organization to call for rescheduling marijuana.
The American Legion has repeatedly urged the White House to reschedule marijuana to allow for more research into its potential therapeutic benefits for Veterans.
The American Veterinary Medical Association recently approved a resolution to begin exploring how to advocate for cannabis reform to facilitate research opportunities for both human and veterinary applications.
Scientists from Salk Institute, a renowned biomedical research facility in California, have said they believe they could find a cannabis-based Alzheimer's disease cure if cannabis were to be rescheduled so they could conduct the studies they needed.
Various federal lawmakers have introduced cannabis legislation this year.
Earlier this summer, Senate Minority Leader Chuck Schumer (D-NY) introduced a bill to remove marijuana from the federal controlled substances list altogether.
The Marijuana Freedom and Opportunity Act would allow individual states to decide how cannabis should be regulated while also easing restrictions for interested cannabis researchers.
2. Independent:
Cannabis could help treat inflammatory bowel
diseases which affect millions, first study shows
Chemicals in cannabis can mimic the signals the body uses to regulate inflammation in the gut and could help treat serious chronic bowel conditions like Chron's disease and ulcerative colitis, scientists have said.
Research from the University of Bath said the findings could help explain why some patients with inflammatory bowel diseases (IBD) report medical marijuana can help their symptoms.
The trials are only in mice at this stage, but could lead to new drug targets for disorders which affect millions of people around the world.
Professor Randy Mrsny, from the University of Bath's Department of Pharmacy and Pharmacology, said: "We need to be clear that while this is a plausible explanation for why marijuana users have reported cannabis relieves symptoms of IBD, we have only worked in mice and have not proven this experimentally in humans.
"However our results may provide a mechanistic explanation for anecdotal data that cannabinoid exposure benefits some colitis patients.
"For the first time we have identified a counterbalance to the inflammation response in the intestine and we hope that these findings will help us develop new ways to treat bowel diseases."
Crohn's disease and ulcerative colitis are the two most common forms of inflammatory bowel disease and affect 300,000 people in the UK, according to Crohn's and Colitis UK.
They are chronic conditions and over a life-time the repeated damage from inflammation to the cells of the gut and intestine can require surgery for complications.
The researchers from Bath worked with colleagues at the University of Massachusetts Medical School to conduct their study, which is published in the Journal of Clinical Investigation.
They found gut inflammation is regulated by two processes, which are constantly in flux to respond to changing conditions in intestines.
Previous research identified the first process – a pathway promoting an aggressive immune response in the gut, which is useful to destroy dangerous pathogens but can damage the lining of the intestine when immune cells attack indiscriminately.
The second process, revealed in the new research, turns off this inflammation response via molecules transported across the cells lining the gut into the intestine cavity.
This response requires a naturally-produced molecule called endocannabinoid, which is very similar to cannabinoid molecules found in cannabis, the researchers say.
If the endocannabinoid is not present, inflammation is not kept in balance and can flare up as the body's immune system cells attack the intestinal lining.
The researchers believe that, because cannabis use introduces cannabinoids into the body, these molecules could help relieve gut inflammation as the naturally produced endocannabinoids would.
Professor Beth McCormick, from the University of Massachusetts Medical School, said: "There's been a lot of anecdotal evidence about the benefits of medical marijuana, but there hasn't been a lot of science to back it up.
"For the first time, we have an understanding of the molecules involved in the process and how endocannabinoids and cannabinoids control inflammation.
"This gives clinical researchers a new drug target to explore to treat patients that suffer from inflammatory bowel diseases, and perhaps other diseases, as well."
3. Cannabis Tech:
Innovative Technology For The Cannabis Consumer
i2P Editor comment: the technology described in the article following could be adapted to be part of a compounding community pharmacy, that would enable a useful specialist cannabis service.

Advanced technology is driving the cannabis industry, not only from the aspect of manufacturing and production but also in consumer technology.
While the price of emerging technology can often keep it out of the reach of the average consumer, a few products have found their way into the market to bring science and precision into consumer's homes.
Advanced grow systems, at-home potency testing, and precision cannabinoid activation appliances top the list for most innovative, advanced technology products in the consumer market.
Regardless of experience in growing or processing cannabis, these glorious gadgets can help consumers get off on the right foot.
Seedo: In-Home High-Tech Growing
Expected to start shipping in the second quarter of 2018, SeedoLab is launching Seedo, a contained, self-sufficient, indoor grow system for cannabis and other crops.
Taking all the technology and science harnessed from large greenhouses, indoor cultivation facilities, and aquaponics, Seedo provides a fool-proof, in-home growing solution for the personal consumer.
Seedo is a hermetic, airtight ecosystem with built-in CO2 cartridges and air conditioning.
No longer do amateur growers need to worry about pests or pesticides, or even the infamous cannabis odor.
The system is completely contained.
In fact, Seedo takes all of the guesswork out of growing and simulates the ideal conditions for the grower's specific plant.
In an email to CannabisTech, Uri Zeevi, Seedo's Chief Marketing Officer stated their database currently contains almost 50 growing plans and they will have more by the time the product is released in Q2.
When asked if Seedo is truly as easy as it sounds Zeevi replied,
"Yes, Seedo takes care of the whole growing process, as long as you grow one plant. However, you can grow up to 5 plants in Seedo if you want to increase the yield, but you will have to spend some 'work' of trimming, topping and binding."
From seed to cure, Seedo is an incredible solution for anyone who would like to the harness the science and technology of a large commercial growing operation in a manageable and affordable appliance for the personal consumer.
Ardent Nova: Easy Decarboxylation
After the harvest is complete, many consumers are making their own cannabis-based products such as edibles, topicals, and tinctures. Part of the process of a successful DIY cannabis product is decarboxylation or activation of the cannabinoids by slow heat.
Ardent Cannabis has perfected the process of decarboxylation for potency, and condensed high-tech precision into a small, counter-top kitchen appliance called the Nova.
Shanel A. Lindsay, Founder and President of Ardent LLC.
While traditional methods of decarbing can waste up to 50% of the cannabinoid content, this amazing little device, which stands only 7" tall, provides a laboratory-grade decarboxylation for patients and caregivers.
Using controlled heat and high-tech sensors, the Nova maximizing cannabinoid availability and activates cannabinoids for edibles, extracts, and tinctures.
Easy to use, this device can hold up to one ounce of flower or five ounces of kief, and provides the perfect decarb, while preserving the terpenes for the highest quality homemade cannabis products possible.
When activated the Nova uses high-powered sensors and a precision heating cycle which activates the most cannabinoids possible without burning the material or losing potency. As a smart device, the Nova creates the perfect bio-availability for the cannabinoids in raw cannabis material or concentrates within 90-120 minutes.
TCheck: Dosing Accuracy
While commercial operations are required to send their products to a lab for potency testing, tCheck would rather bring the lab to you.
An application specific UV-Vis spectrometer, the device works by shining a specific wavelength of light through liquid and measuring the amount of light which shines through.
The light emitter, tray, and receiver are all calibrated for consistency, allowing the tCheck to create an accurate measurement each time.
This measurement is then translated into a specific reading of THC potency, as well as, CBD potency.
In fact, with accessories, the tCheck can even test the potency of cannabis flower, providing valuable information for small, personal operations and caregivers.
As with many technology solutions, the tCheck app for your smartphone logs your results, and keep track of previous tests.
In the legal cannabis space, we have already witnessed huge leaps in multiple forms of technology.
From growing and curing, to processing and testing, as long as there is a demand for at-home cannabis solutions, the technology will continue to push the cannabis market forward. In the long run, the lessons learned through tech advances on the commercial side of the market will lead to advances for the savvy home-grower, as well.
Article by KRISTINA ETTER