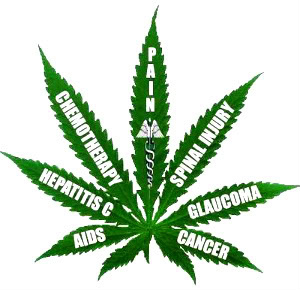 1. Basic Cannabinoid Education
The cannabis plant contains dozens of active compounds called cannabinoids, which are found within the flower, leaf, and stem. Researchers have identified over 80 unique cannabinoids within the cannabis plant, plus a range of other useful phytochemicals that act as anti-oxidants or enhance the therapeutic effect of the various cannabinoids.
The most promising potential for pharmacist investigation is found in the compounding of THC and CBD in specific ratios to match the best result for patients with chronic illness.
Further pharmacist potential also lies in using cannabinoids in harm minimisation programs involving opioid dependencies and as an adjunct for the management of pain.
Pharmacists also need to be active and have a voice in the regulation of these substances ensuring that maximum patient access can be obtained through the application of Schedule 3 of the Poison's Act.
Additional future potential for pharmacists may also be found in the 3D printing of specific cannabinoids and the tailoring of these substances to match the genetics of each individualised patient.
The Most Common Cannabinoids Found in Cannabis:
Tetrahydrocannabinolic Acid (THCA)
THCA is the main constituent in raw cannabis. THCA converts to Δ9-THC when burned, vaporized, or heated at a certain temperature.  THCA, CBDA, CBGA, and other acidic cannabinoids hold the most COX-1 and COX-2 inhibition, contributing to cannabis' anti-inflammatory effects. This cannabinoid also acts as an antiproliferative and antispasmodic.
Tetrahydrocannabinol (THC)
The most abundant cannabinoid present in marijuana, THC is responsible for cannabis' most well-known psychoactive effects. THC acts as a partial agonist at the CB1 and CB2 receptors. The compound is a mild analgesic, or painkiller, and cellular research has shown that it has antioxidant activity.
Cannabidiolic Acid (CBDA)
CBDA, similar to THCA, is the main constituent in cannabis with elevated CBD levels.  CBDA selectively inhibits the COX-2 enzyme, contributing to cannabis' anti-inflammatory effects.
Cannabidiol (CBD)
CBD has tremendous medical potential. This is particularly true when the correct ratio of CBD to THC is applied to treat a particular condition. CBD acts as an antagonist at both the CB1 and CB2 receptors, yet it has a low binding affinity for both. This suggests that CBD's mechanism of action is mediated by other receptors in the brain and body.
Cannabinol (CBN)
CBN is a mildly psychoactive cannabinoid that is produced from the degradation of THC. There is usually very little to no CBN in a fresh plant. CBN acts as a weak agonist at both the CB1 and CB2 receptors, with greater affinity for CB2 receptors than CB1. The degradation of THC into CBN is often described as creating a sedative effect, known as a "couch lock."
Cannabigerol (CBG)
A non-psychoactive cannabinoid, CBG's antibacterial effects can alter the overall effects of cannabis. CBG is known to kill or slow bacterial growth, reduce inflammation, (particularly in its acidic CBGA form,) inhibit cell growth in tumor/cancer cells, and promote bone growth. It acts as a low-affinity antagonist at the CB1 receptor. CBG pharmacological activity at the CB2 receptor is currently unknown.
Cannabichromene (CBC)
CBC is most frequently found in tropical cannabis varieties. CBC is known to relieve pain, reduce inflammation, inhibit cell growth in tumor/cancer cells, and promote bone growth. The effects of CBC appear to be mediated through non-cannabinoid receptor interactions.
Tetrahydrocannabivarin (THCV)
THCV is a minor cannabinoid found in only some strains of cannabis. The only structural difference between THCV and THC is the presence of a propyl (3 carbon) group, rather than a pentyl (5 carbon) group, on the molecule. Though this variation may seem subtle, it causes THCV to produce very different effects than THC. These effects include a reduction in panic attacks, suppression of appetite, and the promotion of bone growth. THCV acts as an antagonist at the CB1 receptor and a partial agonist at the CB2 receptor.
Cannabidivarin (CBDV)
Like THCV, CBDV differs from CBD only by the substitution of a pentyl (5 carbon) for a propyl (3 carbon) sidechain. Although research on CBDV is still in its initial stages, recent studies have shown promise for its use in the management of epilepsy. This is due to its action at TRPV1 receptors and modulation of gene expression.
2. United in Compassion–An Education Event
Quality information and education is hard to come by in regard to medical cannabis.
Many people have formed inaccurate perspectives given the long periods of negative press it has been given.
United in Compassion is a registered charity that i2P can recommend as the appropriate education provider to currently fill knowledge gaps concerning medical cannabis.
Medicinal Cannabis is now a reality for Australia but the initial growing pains are frustrating, controversial and ill informed.
Click image for a larger view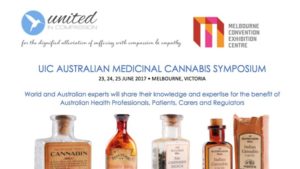 Consequently, United in Compassion is hosting a major international event in Melbourne which is of interest to patients , health care workers and legislators from all states grappling with cumbersome legislation and lack of expertise.
It takes place at the Melbourne Exhibition Centre on the 23rd, 24th and 25th June 2017.
PLUS, a ONE DAY COURSE Sponsored by The Australian Medical Cannabis Observatory
in conjunction with United in Compassion, on 22nd June 2017 at Melbourne Crowne Plaza

Australia's first medical cannabis course, designed for health care practitioners, by health care practitioners.
www.trybooking.com.au
The 1st Australian Medicinal Cannabis Course
A comprehensive introduction to:
•The Australian history of medicinal cannabis
•The endocannabinoid system
•The pharmacology of cannabinoid medicine
•The practicalities of dosing
•Conditions amenable to treatment
•Up to date literature
•International perspectives
…& much more!
Please share the following information with your personal networks to enable attendance from around the country.
We hope to see you there and can guarantee an exciting and informative program which will be suitable for the medical professional to patients and carers and everyone in between.By providing current and accurate information we hope to impact positively on the lives of patients who need better legal access to medicinal Cannabis products.Also I would like to announce the UIC is now a Charitable organisation with Deductable Gift Recipient Status. Please consider helping us financially so we can continue our vital work in medicinal Cannabis reform and patient advocacy.Thank you for your continued support.Many thanks
Lucy Haslam United in Compassion
3. Courier Mail: Opposition Leader Bill Shorten shocks Turnbull Government by backing Greens on drug ruling
Renee Viellaris, Federal Political Editor, The Courier-Mail
May 12, 2017 12:00am

AN "irresponsible" Bill Shorten has shocked the Turnbull Government by backing the Greens in a vote that would have allowed "bags of weed" and hash into Australia.
In a drama-fuelled day, the Therapeutic Goods Administration was urgently dispatched to Parliament House to urge the crossbench to intervene to stop the move to undo tough drug regulations.
Health Minister Greg Hunt declared "it is one of the most irresponsible and dangerous decisions by a leader of a major political party in decades".
The Opposition said yesterday that it wanted to help more Australians access medicinal marijuana.
The Senate vote was narrowly lost at 32-32, because it was tied.
At one stage, the Government believed the Greens' motion would pass, sparking serious concerns about safety of patients, who would be able to access unregulated products.
It would have meant a patient with an Australian script for medicinal marijuana would have been able to personally import a "bag of weed" or hash from anywhere in the world.
Two US women recently died after their medicinal marijuana contained deadly fungus.
It would have left Customs overwhelmed because any Australian with a prescription for medicinal cannabis could have brought raw cannabis, hash or oil in for personal use.
Currently, it can be imported by commercial operators but only from sources regulated by the TGA.
Mr Hunt told The Courier-Mail he could not believe how irresponsible Mr Shorten had been.
"Bill Shorten joined with the Greens to vote in favour of opening the floodgates for dangerous, unregulated drugs to come to Australia," he said.
"It would have opened the way for personal importation through our airports of hashish and other products that are unsafe, unregulated and even deadly.
"We've always known Bill Shorten is a weak leader. Now he's even weak on drugs.
"The role of the TGA is to have oversight of medicines to ensure quality and safety. Labor voted to remove this safeguard — which had been in place with bipartisan support."
The office of Labor's health spokeswoman Catherine Kind told The Courier-Mail: "We now call on the Government to urgently improve the scheme and ensure dying Australians aren't left waiting."
i2P Editor note: The medical cannabis debate is now heating up in a similar fashion to the vaccination debate.
Given that medical cannabis can treat autism that is a well-documented outcome for some vaccinated patients, this is an ironic and disturbing element forming up in Australian health politics.
Conservative-side politics favours restrictive policies that benefit their lobbyists in the shadowy form of Big Pharma and Big Agriculture.
Restricting medical cannabis will reduce access to those in need, will escalate prices and will not be convenient for patients and will not allow for existing growers and suppliers of medical cannabis to be able to legitimise their operations through a sensible form of registration.
Government seems intent on wasting police resources to close down many small scale operators who are already performing compassionate supply services for many desperate patients, who will die without continuing supply.
Pharmacy leaders need to get involved before the market becomes hopelessly entangled (and it might already be too late).