Understanding Medical Cannabis – 1. A Life of its own – Dan's Story 2. Cannabis: 100 Reference Studies
Medical cannabis is being rediscovered for use in a wide variety of settings and conditions. Australia is moving too slowly in getting this useful product in the hands of patients who would find great relief. Government should consider creating an amnesty for existing producers to remove the criminal taint and help the thousands of patients already using the product. Down-scheduling to Schedule 3 would greatly assist patient access. Also, exploration of public health benefits using cannabis as a neutral carbon footprint should be researched. There is a reference article in this edition showing 100 links of evidence - store for future use.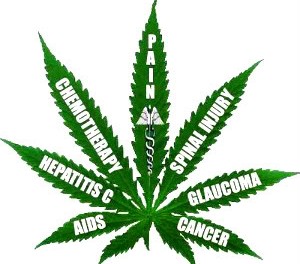 1. "A life of its own, the truth about medical marijuana" on SBS Sunday night
APR 4, 2017 — Dan's Story to be shown for the first time on Australian TV on SBS this Sunday Night (9th April).
They say a picture is worth a thousand words and this is certainly true of the incredible documentary made about our battle to legalise medicinal Cannabis for some of Australia's sickest. Here is the trailer which should be viewed knowing that the Dell family who feature at the beginning of the trailer have already relocated to Canada to be able to care for their little daughter Abbey who has intractable epilepsy.
Australian policy is continuing to fail genuinely sick people who are already battling harder than seems fair.
Please watch the documentary and continue to fight for the rights of patients to access medical cannabis which for many is a medical necessity.
2. Natural Blaze: Here Are 100 Scientific Studies Proving Cannabis Cures Cancer
Don't believe the hype: marijuana is not a gateway drug, it's a medicine.
Despite the fact that countless individuals have used cannabis oil to heal their afflictions, the U.S. Cancer Institute lists cannabis as a 'cure' for cancer on its website, and a multitude of veterans credit the herb with helping them ditch opioids and alleviate symptoms of PTSD, the marijuana plant remains classified as a Schedule I drug in the United States.
In fact, in most countries around the world, use of the herb and its components for medicinal and recreational purposes remains to be illegal. This continues, regardless of the fact that 0 people die from using the herb each year. In contrast, 30,722 die from alcohol poisoning and 38,329 from abusing pharmaceuticals annually (according to 2014 data).
Some activists, such as Rick Simpson, have suggested that the plant is still illegal in the U.S. on a Federal level because of its multitude of uses. A part of the plant known as hemp can be used for clothing, food, and industrial purposes, and components of the 'flower' known as marijuana can inspire creativity, free-thinking and, of course, contribute to healing.
It is an injustice that individuals are refused access to the herb considering it is 100% natural and has been cultivated for thousands of years. Additionally, at least 100 studies prove that the plant can combat one of the most frightening modern afflictions: cancer. As 1 in 2 women and 1 in 3 men are predicted to develop cancer in their lifetimes, it is past time the herb lose its stigma and Schedule I status so that citizens worldwide might benefit from its many properties.
Following are 100 studies proving cannabis to be an all-natural cancer killer:
Cannabis kills tumor cells
Uterine, testicular, and pancreatic cancers
Brain cancer
Mouth and throat cancer
Breast cancer
Prostate cancer
Blood cancer
Skin cancer
Liver cancer
Cannabis cancer cures (general)
Cancers of the head and neck
Cholangiocarcinoma cancer
Leukemia

Cannabis partially/fully induced cancer cell death
Translocation-positive rhabdomyosarcoma
Lymphoma
Cannabis kills cancer cells
Melanoma
Thyroid carcinoma
Colon cancer
Intestinal inflammation and cancer
Cannabinoids in health and disease
Cannabis inhibits cancer cell invasion
---