The Evolution of the Walk-In Clinic to Urgent Care Clinic
Investors globally havbe suddenly become interested in pharmacy walk-in clinics. They have become the "good news" story of US pharmacies and to a lesser extent UK pharmacies. Government is starting to realise the potential impact pharmacy primary health care clinics can have on Government budgets. Already, CVS pharmacies in the US have become the hub of "Patient-Centred Neighbourhoods" - the next evolution after "Patient-Centred Homes". Australian pharmacists need to wake up before Location Rules and Ownership Legislation will be transferred to global operators.

Australian pharmacy is now well behind its US and UK counterparts in the development of walk-in clinics and appears almost frightened, certainly reluctant, to build on this obvious platform that has proven successful in re-aligning many large pharmacy groups back to a balanced core health business.
CVS in the US appears to be the main driver for walk-in clinics, but is by no means the only entrant in this rapidly expanding health model.
The clinics are built in collaboration with clinical nurse practitioners, although an increased pharmacist content is beginning to appear, particularly in the vaccination side of the operation.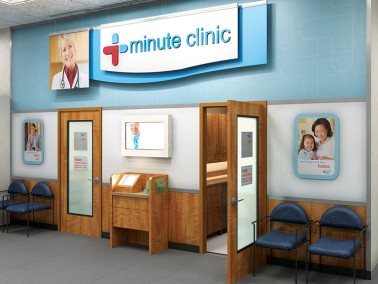 It has been quite noticeable that supermarkets having pharmacies in the UK have not been as profitable and don't fit the metrics required compare to performance in other categories.
Some supermarkets are selling their pharmacies to operators such as Lloydspharmacy, which is successfully replacing the original pharmacy with its own model containing a clinic.
Now the major players in the US have set their sights on "urgent care" as being the next level in their expansion drive.
Urgent care centres are similar to retail health clinics in that they are open in the evening and on weekends to treat routine health needs.
But urgent care centres also generally offer a board-certified physician plus additional services such as lab tests and X-rays for potential broken bones.
Urgent Care clinics have already been established by the largest hospital operator in the US, HCA Holdings and for CVS and Walgreens Boots Alliance, an extension to urgent care is certainly a logical extension.
That they are popular is already proven, but making them profitable is another exercise.
Predicted is that 10,300 Urgent Care Centres will be established by the end of 2016 with $17 billion in annual revenues.
By 2020, there will be 11,454 urgent care sites with $19.6 billion in annual revenue.


i2P has identified that walk-in clinics that specialise in wound management could be incorporated as part of urgent care as major accidents, natural disasters, bushfires and acts of terrorism quite commonly overwhelm local hospital resources.
Pharmacy Urgent Care Clinics could form a triage component of this activity, particularly as the actual pharmacies are strategically located under legislation that is currently under review.
If dismantled, the loss of the Location Rules may work against an economical extension of future urgent care.