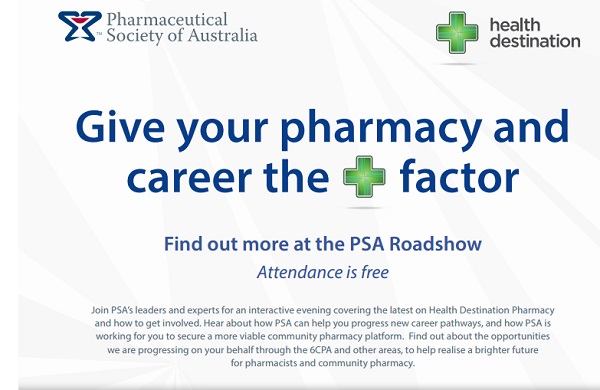 Rural pharmacist humbled by OAM honour
27 January 2016
Respected rural pharmacist John Holds has been bestowed with an Order of Australia (OAM) medal to honour more than 40 years of his service to the community.
Mr Holds' outstanding dedication to rural pharmacy was applauded by the Pharmaceutical Society of Australia (PSA) as part of Australia Day celebrations.
Mr Holds started his distinguished pharmacy career in Whyalla, South Australia, in the 1960s and said he has been a PSA member and supporter for "as long as he can remember".
While semi-retired now, Mr Holds still works as a country locum in regional centres across South Australia, Victoria and New South Wales.
"I'm very humbled to receive this honour as I get a lot of satisfaction from being a pharmacist, especially working in regional areas," Mr Holds said.
"I've lived in the country all my life and enjoy living in rural and regional communities, it's something I know well and I enjoy making a difference in these places.
"The reason I still work is because there's an urgent need for more rural pharmacists in Australia."
Mr Holds said pharmacy had changed immeasurable over the years, with one of the biggest differences being that pharmacists are now more interactive with customers.
"When I first started, we were out the back and didn't venture into the shop to talk to customers.  Nowadays, people are looking for healthcare information, which is something I have always enjoyed as a professional."
PSA Immediate Past National President Grant Kardachi applauded John's impressive achievements, saying he was highly-respected among the profession, especially in South Australia.
Mr Kardachi said John was always a strong supporter of the PSA, especially by regularly attending education seminars in regional South Australia.
"I congratulate John on his OAM honour and I thank him for his outstanding service and loyalty to the PSA and regional communities," Mr Kardachi said.
"The fact that John's been a PSA member for such a long time, even though he's semi-retired, showed his dedication and loyalty to the profession."
South African safari for Offshore Refresher 2016
January 25, 2016
Pharmacists and health professionals and are urged to register for the Pharmaceutical Society of Australia's (PSA) prestigious Offshore Refresher Course 2016 in South Africa, offering the highest-quality education mixed with wildlife and adventure.
As Australia's longest-running and highly successful pharmaceutical conference, the 41st Offshore Refresher Course 2016 will be held in Cape Town and Sun City, South Africa from 1–10 May, with pre-conference programs from 27 April and a post-conference program from 10–13 May.
PSA Offshore Refresher conference organising committee chairman Warwick Plunkett said the 2016 event was shaping up to be another memorable, once-in-a-lifetime experience.
"This exciting annual event is designed for PSA members to update and share their knowledge on business management, medication management, new technology and the latest therapies," Mr Plunkett said.
"It also continues the tradition of quality education, fantastic destinations, prestigious hotels and great networking opportunities as well as an opportunity to earn up to 60+ CPD credits, underpinning PSA's claim that 'learning can be fun'."
Mr Plunkett said the Offshore Refresher Course 2016 offered the same successful format as previous years: four educational streams over the six main conference days, including therapeutic updates and practice issues, as well as breathtaking pre-and-post conference locations including Mauritius and Victoria Falls.
"Pharmacists say they like this concept as it broadens their experience and gives them a wide range of networking opportunities with representatives of the profession in different locations," Mr Plunkett said.
Mr Plunkett said the 41st annual Offshore Conference continues to deliver on its reputation as being the leading offshore essential practice education conference for Australian pharmacists.
Details of the 2016 event:
Main Conference: Cape Town and Sun City 1-10 May
Pre Conference Tour: Mauritius 27 April – 1 May
Post Conference: Victoria Falls and Chobe Game Lodge 10 – 16 May.
Don't miss out – register NOW for the 41st Offshore Refresher Course.  Registration details can be found at
https://www.psa.org.au/refresher