1. Exceptional Tasmanian pharmacists honoured
23 October, 2018
Respected pharmacist Graeme Holloway received the Tasmanian Pharmacist Lifetime Achievement Award at the fifth annual Tasmanian Pharmacist Dinner on Saturday 20 October.
Pharmaceutical Society of Australia (PSA) National President Dr Shane Jackson presented the award to Mr Holloway at the iconic Henry Jones Art Hotel on the Hobart waterfront.
Tom Simpson won Pharmacist of the Year at the awards night, while Emma Shepperd took home the Early Career Pharmacist Award.

The event was a collaboration between PSA, the Pharmacy Guild of Australia, the Society of Hospital Pharmacists of Australia (SHPA) and the University of Tasmania Pharmacy Department.
PSA National President Dr Shane Jackson congratulated Mr Holloway and said his dedication to pharmacy had helped raise the standards of the profession and pharmacy organisations.

"Graeme was a fantastic mentor, not only to his own staff but to the hospital pharmacy interns he trained in his own time," he said. "He was also recognised earlier this year when he was awarded PSA Life Fellow status at the PSA18 national conference in Sydney."

Mr Holloway is a former president and national delegate of the Pharmacy Board of Tasmania, responsible for redrafting the Tasmanian Pharmacy Act.
Tom Simpson, the Executive Director of Statewide Hospital Pharmacy in Tasmania, was presented with the Pharmacist of the Year Award by SHPA National President Professor Michael Dooley.

Prof Dooley said, "Tom has applied his broad skillset, creativity and patient focus in a variety of roles including establishing Tasmania's digital medical record system. In pharmacy he has shown passionate commitment to improving medication safety across Tasmania's health system, including establishing rural pharmacy services to ensure patients in rural hospitals receive the same level of pharmacy care they would in acute hospitals."

Emma Shepperd was announced the winner of the Early Career Pharmacist Award by Pharmacy Guild of Australia National President George Tambassis.

"Emma has successfully developed professional services, health promotions and community programs in the small town of Triabunna on the East Coast, attracting national news coverage," Mr Tambassis said. "She is the embodiment of a caring community pharmacist making a difference."

Pharmacist Greg Kay was also awarded the Guild Distinguished Service Award, and Harvey Cuthill OAM received PSA Life Membership.
Image 1 caption: Dr Shane Jackson presents the Tasmanian Pharmacist Lifetime Achievement Award to Graeme Holloway
Image 2 caption: Early Career Pharmacist Award winner Emma Shepperd with George Tambassis
Image 3 caption: Professor Michael Dooley presents the Pharmacist of the Year Award to Tom Simpson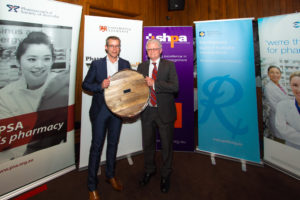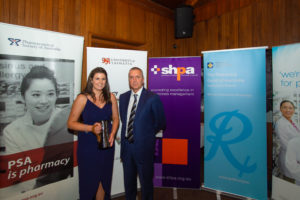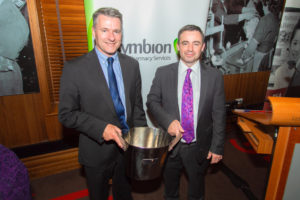 2. International expert visits Australia to explore the future of pharmacist prescribing
October 17, 2018
Ravi Sharma, an independent pharmacist prescriber from the UK, is coming to Australia to work with the Pharmaceutical Society of Australia (PSA) to offer valuable insights into pharmacist prescribing in the UK and explore how to progress this important role for pharmacists in Australia.
PSA National President Dr Shane Jackson said that while pharmacist prescribing is an established part of practice in the UK, pharmacists don't yet have Schedule 4 prescribing rights in Australia.

"Australia is missing out. It make no sense that dentists, nurse practitioners, midwives, podiatrists and optometrists can prescribe, while pharmacists, the medication specialists, cannot," Dr Jackson said.

"PSA is leading the agenda in Australia to ensure pharmacist prescribing becomes a reality by 2020, and we are excited to help share Ravi's experiences with this model in the UK."

Mr Sharma is the National Clinical Lead for Clinical Pharmacy and Genomics for the National Health Service (NHS) in England, and holds several honouree and advisory positions. His focus is the development of integrated, collaborative and innovative roles for pharmacists.
He has been responsible for developing new roles for pre-registration, junior and senior pharmacists, linking them to local and national workforce development strategies.

"I am truly honoured to be invited by the Pharmaceutical Society of Australia to speak on pharmacists prescribing in the UK," Mr Sharma said.

"Pharmacist prescribing has opened up many opportunities for pharmacists to help improve patient care, increase access to medicines, enhance public health and enable greater collaborative multidisciplinary team working with doctors, nurses and allied healthcare professionals.

"During my visit I will share my experiences and evidence on pharmacists prescribing in integrated/collaborative models of care and how the pharmacy profession is helping to improve patient care and safety through greater autonomous and integrated practice across the NHS."

Pharmacists are invited to attend CPD events with Mr Sharma and Dr Jackson<https://my.psa.org.au/s/sfdcpage/%2Fapex%2FTrainingPlanPreview%3Fid%3Da117F000001A3XsQAK> on Monday 22 October in Melbourne and Thursday 25 October in Sydney. The Sydney event will be live streamed.

"These events with Ravi are an important step towards this exciting role that will allow pharmacists to do more with medicines and improve public health," Dr Jackson said.