8 MAY 2015
WINTER IS COMING: FIGHT ANTIBIOTIC RESISTANCE EVERY DAY IN MAY
Ahead of the 2015 cold and flu season, NPS MedicineWise has launched an exciting new phase in its five year campaign to fight antibiotic resistance, 'Winter is coming', to encourage people to spread knowledge, not infection.
Combining social media content every day in May with renewed calls for Australians to take the antibiotic resistance fighter pledge, NPS MedicineWise has also partnered with Tropfest, the world's largest short film festival, to launch a novel short film competition designed to tap into the skills and expertise of our creative storytelling community.
Called #savethescript, the competition encourages people to make short 45 second films to generate awareness about this global health issue affecting us all.
NPS MedicineWise Clinical Adviser Dr Jeannie Yoo is encouraging people to get involved and help fight antibiotic resistance this cold and flu season.
"Winter is coming and we need people to know the facts about antibiotic resistance. The discovery of antibiotics is one of the most important advances of modern medicine but now, because of the overuse and misuse of antibiotics some bacterial infections that were once easily cured with antibiotics are becoming harder to treat," says Dr Yoo. 
"Australia's high level of antibiotic use does contribute to the problem of antibiotic resistance, but we are also becoming a global leader in bringing about change."
So, this May NPS MedicineWise is asking Australians to get involved by sharing our antibiotic resistance facts on social media, taking The Pledge to fight antibiotic resistance, and entering the #savethescript short film competition.
The World Health Or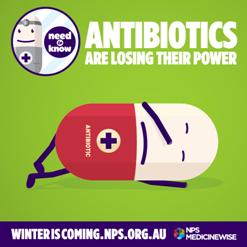 ganization has recognised antibiotic resistance as one of most "primary global health threats today", while a 2014 report commissioned by the Prime Minister of the United Kingdom estimated that a continued rise in antibiotic resistance by 2050 would lead to 10 million people dying every year, with a financial cost to the world of up to US$100 trillion.
"The reality is that antibiotics are losing their power. But individuals, through their own actions and choices, can be part of the solution," says Dr Yoo.
"We are encouraging people not to ask for antibiotics for ordinary colds and flu this winter because they understand that antibiotics won't help them recover faster from a viral infection. Your immune system can fight viral infections without antibiotics. Using antibiotics when you don't need to could make them less effective when you do."
About #savethescript
#savethescript is a short film competition dedicated to raising awareness about antibiotic resistance. Together, Tropfest andNPS MedicineWise have invited amateur and professional filmmakers alike to use their passion for creative storytelling to make a difference to our future by creating a 45 second short film to help preserve the miracle of antibiotics. $10,000 in prize money is up for grabs, with entries open until 5:00pm on Friday 31st May 2015.
To find out more about the Winter is Coming initiative and about the #savethescript short film competition, visit winteriscoming.nps.org.au