2 August 2016
Australian Prescriber First Digital Edition

The first fully digital issue of Australian Prescriber is now available from the new website.
Download your favourites or read them on your desktop, laptop, tablet and mobile.
View web page
ARTICLES
Prescribing psychotropic drugs to adults with an intellectual disability
The rates of mental illness among people with intellectual disability are at least 2.5 times higher than in the general population. Professor Julian Trollor and Dr Carmela Salomon from the University of New South Wales, and Dr Catherine Franklin from the University of Queensland, write that mental illness is often undetected and that inappropriate use of psychotropics, including the overuse of antipsychotic drugs to treat challenging behaviour, is common.
The authors call for thoughtful prescribing that takes into account underlying medical conditions and considers non-drug management strategies.
Managing behavioural and psychological symptoms in dementia
Most patients with dementia have some behavioural and psychological symptoms, write Associate Professor Stephen Macfarlane from the Dementia Centre, Hammond Care, and Professor Daniel O'Connor from the Aged Mental Health Research Unit, Monash University. About 90% of patients display at least one problematic behaviour. These symptoms should be managed without drugs whenever possible.
The writers say drugs are an augmentation to behaviour management, not a replacement for it. Although there is little evidence to support the use of antipsychotic drugs in patients with dementia, they are often prescribed. Patients then have an increased risk of adverse effects, including falls, stroke, hospitalisation and death.
The burden of gout is growing worldwide and studies suggest a prevalence of 1.7% in Australia. Rheumatology and clinical pharmacologists Drs Andrew Finch and Paul Kubler, from the Royal Brisbane and Women's Hospital, provide an update on available treatment options.
Despite the high prevalence of gout, and the availability of safe and effective therapies, there remains considerable practice variation in diagnosis and management. Urate-lowering therapy reduces the risk of further attacks of gout. New drugs will soon become available but are likely to be limited to patients who do not respond to current treatments.
Transparency in the pharmaceutical industry
From October this year, payments to health professionals by the pharmaceutical industry will be made public. In one of a pair of editorials Deborah Monk, Director of Compliance for Medicines Australia, says that the pharmaceutical industry is striving to be more open, more transparent and more communicative about interactions between companies and healthcare professionals. On the other hand, Dr Agnes Vitry from the University of South Australia questions whether transparency is enough and argues that health professionals should be completely independent from the influence of the pharmaceutical industry.
  Other articles in the August 2016 issue of Australian Prescriber include:
* Medicinal mishap: Trimethoprim-induced critical hyperkalaemia
* Rituximab in autoimmune diseases
* New drugs: Nivolumab for melanoma, non-small cell cancer
*  New drugs: Paritaprevir/ritonavir/ombitasvir plus dasabuvir/with ribavirin for chronic hepatitis C
8 JULY 2016
NEW VENTUREWISE PROGRAM ON COPD AND ASTHMA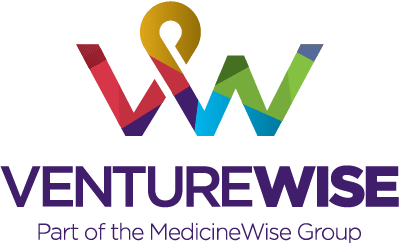 A new agreement between GlaxoSmithKline (GSK) and VentureWise—part of the MedicineWise Group—will see an independent educational program delivered to GPs on the topic of chronic obstructive pulmonary disease (COPD).
VentureWise Managing Director Greg Hughes says the new GSK-funded program aims to provide greater clarity to health professionals on medicine choice for COPD, improve adherence and inhaler technique, and reduce confusion associated with medicines for COPD and asthma.
"This agreement provides an opportunity for both parties to contribute to the enhancement of medical knowledge and improving quality use of medicines," says Mr Hughes.
As part of the agreement, VentureWise retains complete independence in determining all aspects of the design, content and implementation of the program, ensuring it remains an independent, quality GP education program," he says.
"VentureWise has commissioned resources from within the MedicineWise Group to design, develop and deliver the education program."
GSK introduced a new framework at the start of 2016 for its medical education and interactions with healthcare professionals to increase transparency.  The grant to VentureWise has been made under GSK's initiative to support third-party independent medical education conducted fully at arms-length.
"VentureWise and GSK independently recognise that there are challenges for GPs in keeping up with advances in COPD therapeutics, given the recent proliferation in options and in the evidence base," says GSK Australia Medical Director Dr Andrew Weekes.
"GSK's recent commitment to supporting independent medical education around such identified gaps gave us the opportunity to support this important programme. Our new funding framework guarantees the independence of this education, developed and delivered entirely at arm's length from GSK. We believe this model has the potential to make a meaningful difference for patients in Australian primary care," Dr Weekes says.
Educational visits commenced this month in selected locations around Australia.
For more information about VentureWise, go to www.venturewise.com.au. For more information about GSK's independent medical education initiative go to http://au.gsk.com/en-au/responsibility/independent-medical-education/.