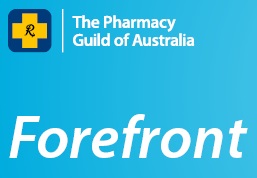 There is an ongoing need for genuine primary health care reform, and the Guild is actively playing a part in the national debate about the direction that reform needs to take.
As part of this dialogue, a Guild delegation – including myself and National President George Tambassis – was pleased to meet this week with members of the Primary Health Care Advisory Group.
The Group, which was commissioned by the Federal Government and is led by former AMA President Dr Steve Hambleton, is currently conducting a series of public consultations.
With recent statistics showing half of all Australians are battling at least one chronic disease, there has never been a better time to reform and improve the way our health system provides primary care. The time is right for better and broader use of community pharmacy as a primary health care resource and as part of the wider primary health care team.
The Guild supports a more coordinated, collaborative and integrated approach to primary health care, recognising that the Quality Use of Medicines is a fundamental aspect of patient care that is under acknowledged and under-funded
The Guild's submission to the Advisory Group points out that, as a highly accessible and frequently accessed part of the primary care system, pharmacies can play a key role for patients with chronic conditions, as:
a first point of contact

a place of triage, advice and referral,

a provider of health information and health literacy assistance

a risk assessment and early invention point

medicine management experts as part of an ongoing management team

point of care testing

lifestyle management, and

ongoing monitoring of chronic conditions.
Opportunities also exist to implement practical reforms to help improve access to medicine-related care whilst taking pressure off other areas of the health system. These include:
continued dispensing for the management of patients who are not unwell, but require therapy for their chronic disease/s (e.g. high blood pressure), and

a pharmacy formulary to provide one-off medications for a select number of readily diagnosable minor ailments, enabling access to timely treatment, freeing-up capacity in other parts of the health system.
A patient e-health record incorporating comprehensive e-medication management must also be a part of our primary health care system.
The Guild submission also discusses measuring patient outcomes; payment models and investment in medication management; pharmacy's role in assisting patient self-care; and the potential role of private health insurers in supporting medication management through community pharmacies. The Guild's submission is available on the Guild Script.
The Guild is committed to advocating strongly on the behalf of our members to ensure that pharmacy is recognised and funded as an integral part of the primary health care system.