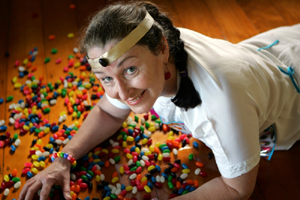 I'm not popular with many cancer patients, particularly those who love their alternative practitioners. Many of us seem to want to believe in voodoo and witchcraft. We will happily throw away hard-earned cash, swallow buckets of pills and submit ourselves to weird and fanciful ceremonies – just because our naturopath, homeopath, chiropractor, intuitive healer or whoever, says so.
As a cancer survivor, I saw this first-hand. As a scientist, I decided to do something about it. This month I attended an investiture to receive an Order of Australia Medal for "service to community health", which makes my decade of quack-busting 'officially' worthwhile.
Naturopaths, trained in universities, are caring people, capable of giving sensible lifestyle advice. But that's where it ends. Attending an Australian university is, regrettably, no longer a guarantee that what is learnt has any basis in science. More than one-third of our universities offer 'non-science' (= nonsense) courses without any credible evidence to back their claims: homeopathy, acupuncture, craniosacral therapy, 'energy medicine'– the list goes on.
When naturopaths graduate, as unregistered and unregulated practitioners, things go pear-shaped.
Many use new-fangled hi-tech devices: VEGA & QXCI (diagnosing your allergies?), MSAS-Pro & Avatar (assessing your 'meridian stress'?), Bioptron light therapy (treating you on the colours of your chakras?) – there is no end to their imagination. These devices can be accepted onto the Australian Register of Therapeutic Goods (ARTG) with no requirement for "proof of efficacy", but with only a "safety certificate". With no effective mechanism for removing them, it remains a free-for-all. If there were any evidence for their fantastical claims , we would be re-writing all our books on science, not only in Medicine, but in Physics, Chemistry, Engineering – you name it!
Using these devices, practitioners increase their income by hundreds of thousands of dollars annually, in Private Health Insurance-rebated consultations*, repeat appointments, and of course, all the 'natural' pills, potions and pads you stagger out with.
Alternative practitioners might seem like another option, but, apart from a friendly smile and reassuring words, what they offer is mostly a waste of time and money.
Going 'undercover' for current affair programs, I've watched terminally ill cancer patients being infused with bleach, have been sold 'cancer cures', been told not to have chemo and surgery, been assured that my cancer is cured and that it will never return – all for considerable sums of money.
While some practitioners have been exposed, a new one is probably setting up shop around the corner and could be looking for you. And, if you are a cancer patient, because you are worried, and fearful of dying, you may be tempted to 'try anything'. "Anything must be better than nothing!"
How sadly wrong that is. How pathetic are those practitioners who, knowing that you have a possibly fatal illness, take your money – giving you nothing in return, except, perhaps, some false hope!
*The exception being the Doctors Health Fund!