Warning
: Undefined array key 0 in
/home/i2pcom/public_html/wp-content/plugins/simplybook/simplybook.php
on line
112
Welcome to this weeks' edition of i2P (Information to Pharmacists) E-Magazine dated Monday, 19 October 2015.
To me, this week was a politically sad week for Australia when polarised activist groups involved in freedom of speech protest marches, broke down and fought each other violently on the streets of Melbourne.
Australian violence against Australians!
Drone footage captured anti-Radical Islamic and anti-racism activists fighting on the streets of Melbourne outside Parliament House on Saturday. 
Over 400 police officers were deployed to stop the two groups, the 'Coalition against Racism and Fascism', and 'Reclaim Australia', from clashing. 
The nation-wide 'Reclaim Australia' group has been protesting against extreme Islam and the ideology of extreme Islam, (triggered by the Lindt Café massacre at Martin Place, Sydney), while the 'No Room for Racism' counter-demonstrators have denounced racism and Islamophobia.
National Party MP George Christensen has agreed to speak at a Reclaim Australia rally in Queensland. He said:
"It's a rally against radical Islam – and anyone that comes in holding up signs that are racist or just pointedly anti-Islam – and not anti-radical Islam – will be asked to take those signs down by the organisers."
"I will publicly tell them that – because the organisers have told me – when I asked them, if it was rally against Islam – and they said no.
"My message is going to be one against radical Islam.
"So in this whole thing, some people are deaf to the word 'radical'," he said.
"All they are hearing is that I am going to something that is against Islam and I have to say that is not what I am doing and that is not what these people are protesting against."
"My message is that we need to be proud of our Australian heritage and the ways that emanate from that," Mr Christensen said.
And his message is something that most Australians would resonate with.
Extremism should not have a place in Australian society, yet it has arrived.
Consider, for example, the debate for the use of childhood vaccines and the method of compulsion in Australia.
i2P debates the "safe" use of vaccines and is against compulsory vaccination.
Just like George Christensen points out that the extremists attending the Reclaim Australia rallies are deaf to the word "radical" so too the extremists in the vaccination debate see only "pro-vax" or "anti-vax" – and "safe-vax" is not even heard.
This type of division is well and truly embedded within Australian health policy to the extent that the extremist view of the "pro-vaxers" has been successful in persuading government that it should introduce compulsory vaccination by legislation.

That same government has stated that one of the reasons for compulsion is because some intelligent constituents living in specific electorates are providing an alternative (supposedly anti) view.
How ridiculous an argument is that!
Australians are vulnerable to losing their heritage and freedoms on a broad front, and it's now happening in "plain sight".
Complacency can no longer be a life strategy and unless the "average Australian" speaks up until they are heard, they will be buried in extremism.
Another issue that surfaced again this week was that of a refugee on Nauru, a young women aged 22, who became the rape victim of a detention centre guard.
Both the detention centre and the contracted guards are legally under the control of the Australian government.
Because she became pregnant, she asked for a legal termination of her pregnancy under safe conditions in Australia.
Under social media pressure through her lawyer (because she could not get any responses through the normal channels), Malcolm Turnbull responded, and she was brought back to Australia for treatment.
Then she was shipped back without any treatment – even basic counselling.
Her lawyer has asked that her story (in her own writing) be circulated widely – so we are doing our bit.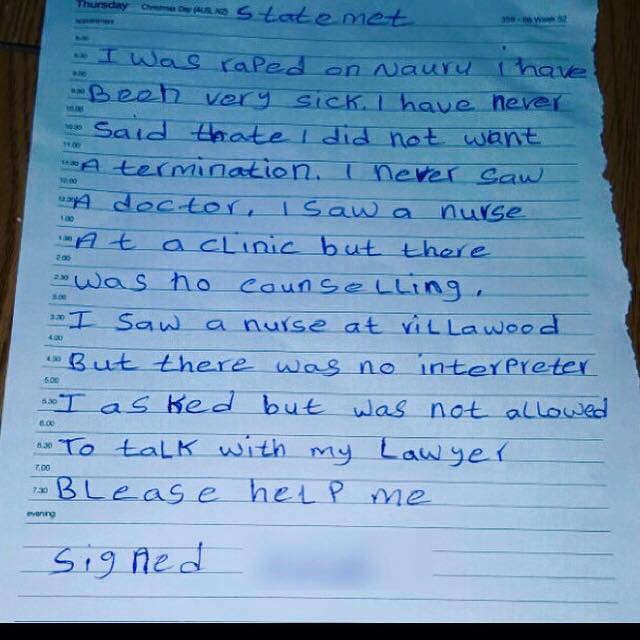 I would also add that I am deeply embarrassed and ashamed to call myself an Australian and that this current government in no way represents my views in the treatment of this poor woman, who is now permanently scarred and will have mental health issues for the rest of her life.
Against that backdrop of violence and extremism, the current offering from i2P must appear a bit tame, but nonetheless we do have some good material in the form of news, opinion and analysis.
Back to basics in marketing and planning is our lead article for this week, and you may pick up on the basic theme that marketing to patients must be "one on one" while marketing to customers can be in "volume".
Talking to both types of consumer is one of the interesting complexities of pharmacy that indeed, many pharmacists do not truly understand themselves.
Read: Back to Basics – What is your marketing strategy?
And then we follow with Barry Urquhart's thoughts in the form of a range of essays involving management and marketing issues – all with relevance to pharmacy.
Read: Marketing Focus – Essays on Management & Marketing
Following on in a similar vein, our international writer, Harvey Mackay, has a useful article reminding us to Recommit to your goals.
Harvey's observations are always very sharp and to the point.
Mark Coleman is back and talks about Being a Good Collaborative  Leader.
Leadership in all forms of organisation – business, political or social – is under the microscope because leaders are not coping with the rate of change and the extremist elements who take advantage of that disarray.
Examples are evident within our own pharmacy organisations, and certainly in mainstream politics.
Being vigilant and in tune with the true needs of the majority is certainly a requirement of today's leaders.
But having the courage to hold on to principles must rank as #1.
Gerald Quigley has an interesting clinical article where he points out areas of polarisation within clinical science.
We are all aware of these issues but individually, we don't do much about them – avoiding argument when extremist positions are argued.
Read Neuropathy and Quality of Life and start to come to terms with extremism in all of its forms.
Also for this edition we republish the Australian Pharmacy Board newsletter, the first under new chairman William Kelly.
This may be of value to persons who do not receive this publication or to our international readers who may be interested in official Australian Pharmacy activities.
And we finish up with pharmacy organisation media releases.
Peter Waterman, the public affairs director for the PSA has now moved on and i2P thanks him for the professional manner that he engaged with media in general, including i2P.
PSA – PSA Media Releases – Peter Waterman moves on
ASMI – ASMI Media Releases – 1. OTC Codeine 2. Upscheduling Costs 3. Thanks to Martin Cross
NPS – NPS Media Releases – Medicinewise Multiple Releases
Please enjoy our offering for this week.
Neil Johnston
Editor
Monday, October 19, 2015