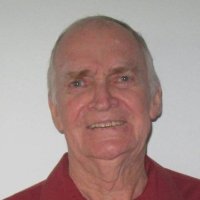 Editor's Note:
Rollo Manning was my  strongest critic.
i2P began life originally as Computachem Newsletter.
The first publication was transmitted in February 2000 and immediately attracted the attention of pharmacist Rollo Manning who sent me a broadside of questions that demanded immediate answers.
With laser-like precision he dismantled my thoughts, my presentation – just about everything I considered important at that time – and then decided Computachem Newsletter would be an appropriate format to write for.
Mind you, I had not considered guest spots for other writers at that time.
And so began an association that lasted over twelve years when he advised that his health precluded his further participation as a writer.
But the relationship continued as Rollo continued to give his wise counsel when I needed to illuminate some ideas or thoughts.
Contact was irregular, but like most genuine friendships when communication was rekindled, it was as though there had been no gaps at all.
So events tended to trigger contact, even birthdays on Facebook.
Except that the birthday notice this year was a sad one as his daughter Suzanne, notified all his contacts on Facebook that her father had passed away.
As a tribute to Rollo I could think of no better way than to publish his first article for Computachem/i2P that first appeared in March 2000.
It succinctly sets out to give a broad perspective of pharmacy after it had just received delivery of the Wilkinson Report which was supposed to bring pharmacy into a new paradigm.
Check out Rollo's comments then (now sixteen years old) and measure how pharmacy's leaders have embraced change.
Make your own estimates.
Pharmacy is the poorer for Rollo's passing. He has made a considerable contribution to his profession, particularly in his special interest of indigenous health.
I will miss him.
Retail pharmacy will remain an uncompetitive, insulated industry, susceptible to Government intervention if it does not move with the times into the 21st century.
National Competition Policy (NCP) is not new.
It is not a tool for governments to reign in the small operator in favour of the big three retail giants.
It is not a tool to deprive rural and remote communities of essential services.
It is a philosophy to encourage the public and private sectors to work together towards a more efficient, cost effective and accessible approach to the delivery of goods and services to the community, wherever they may be.
The final report of the COAG review of pharmacy regulation makes it clear how changes to regulation can improve services to communities "in the bush".
It explains how current ownership regulations and PBS location rules work against the benefit of people living in small country towns.
It goes to some length to explain how the present ownership regulations work against having a competitive environment for consumers to be able to decide for themselves the profile of the pharmacy which they would prefer to patronise.
It also accuses the industry to be behind the times when it comes to innovation and experimentation with alternative models of practice.
This report (in the year 2000) is unlikely to bring about any immediate change as the political climate is not right, and this fact is well known to pharmacy leaders.
The Federal Government is obsessed with bringing in the GST with the least disruption.
State/Territory Governments, while maybe interested in the process of change through National Competition Policy incentives, are also aware the changes needed to have a competitive retail pharmacy marketplace do not happen suddenly.
They must be carefully planned in conjunction with measured changes in the PBS. With pharmacies relying on the PBS for 65 per cent of turnover, rapid change could mean the closing down of access, and this is not being responsible.
Given these factors it could easily be argued why worry?
The answer is simple.
While the report may not have any immediate impact, the arguments contained will not go away even with the passage of time.
In fact they may become stronger in the near future if no action or attention is given to the reasons why certain assertions were made towards the retail pharmacy industry.
The allegation that NCP will give an easier access to larger retailers to dominate a marketplace, is neglecting what the situation would be without NCP processes.
Given the need for NCP reviews to be transparent, and encourage submissions from the private sector and community groups.
It could be that the path for change would be more sympathetic to local needs in a social and employment context.
Globalisation of industry was well in progress before NCP, as was the growth of information technology.
At least through a well-defined process NCP has the opportunity to assist with planned change rather than one which is purely economically driven.
Pharmacy in the retail sector could do well to ask itself some questions as to the lessons which can be learnt from the NCP review of pharmacy regulation.
This if done in a transparent manner, and open to public scrutiny and support, would position the profession well in the event of further examination of anticompetitive forces within the industry structure.
Questions needing an answer surround some of the following: Why is there a "sameness" associated with the pharmacy profile around Australia?
And is it in the best public benefit?
How it is that a pharmacy in Gove or Cooktown receives the same remuneration for dispensing as the pharmacy in the inner suburbs of a city?
Why the consumer cannot have a choice between counselling or no counselling, and decide whether they are prepared to pay a premium?
How the PBS can be sustained with the granting of a PBS approval being the expected "norm" of all pharmacies.
How extra capital can be attracted to the industry to try out different models of innovative practice?
How long the PBS can continue to contribute 65 per cent of retail turnover with such a low return on capital investment?
Is there a public benefit from Pharmacy Boards meddling in commercial structures and decisions?
If professionalism is so essential in pharmacy practice, how is it that renewal of registration carries no competency assessment?
If registration is so important, how long before it is essential to have a National register, rather a State/Territory separate system?
And so the questions could continue.
What to do?
The first essential element is for pharmacy organisations to have a proactive stance towards to change.
It is not too late, given the early initial reprieve from the COAG review, to be a part of planning the change process and not just reacting to the moves of governments.
All pharmacists in retail practice could do well to look back on how the practice was when they entered from University, and how much it has changed.
The result will be telling, as there is not very much evident change.
At a time when health service delivery is moving forward at a great rate of change, pharmacy is stagnant. In 10 years time it could be the profession nobody wants if it does not start to carve out its own place in the professional team.
Ask yourself what you are doing that technology cannot?
You may find the answer worrying, depending on your attitude to future generations of pharmacists.
Be competitive; make sure others who will decide how important they think you are want you.
The "government" is certainly there to help, but not to provide all the time.
One final question.
What other health professional is in such a protected environment as the pharmacist?
There are not many.
Pharmacy has to earn the privileges bestowed on it.
It is not a right without responsibility.
Rollo's Profile, in his own words:
I am working as a consultant to Aboriginal people, especially those from remote communities, who are interested in improving the health of their people. I commenced this work as a pharmacist serving the 23 remote health clinics in the Katherine Region of the NT in1997. I was shocked in what I saw and made a personal commitment to do something about this.
I am like that – set myself goals.
I then went to a policy officer position in the NT Health Department on pharmacy matters and represented the NT on national committees on regulatory control; working parties on remote health; and steering committees on National Competition Policy.
I then worked for the Tiwi Health Board for 2.5 years before its demise due to insolvent trading in September 2003.
During that time I was instrumental in establishing the first Aboriginal community controlled pharmacy business associated with the primary health care clinics facilities in three communities.
During my time with the Tiwi Health Board I came to the conclusion I was doing nothing to improve the life of the remote living Aboriginal who had such a crazy lifestyle that ruled against good health.
I made another personal commitment to do something about this and went back to my roots in social development in Melbourne in the late 1960s and the Social Welfare Commission of the Whitlam Government in the 1970s.
My interests now are to continue the work towards improving pharmacy services to remote health clinics and further the cause of social and economic development as a solution to the lifestyle challenges for people living in remote communities.
RWM Consultancy specializes in the health and social welfare of Indigenous people across the North of Australia a well as a continuing role in developing pharmacy as a profession with a key contribution to make in primary health care. 25 years of experience in lobbying allow advice to be given on strategic planning and campaign management. Communications across the board from writing submissions and reports to placing releases in the National media can be accommodated from the Top End. Conference and event organizing or workshop facilitation can be arranged and this will include a comprehensive summary and action plan for the path ahead. Social responsibility and corporate governance are especially pertinent when assisting the reconciliation process for Aboriginal and Torres Strait Islander people. Darwin is a focus for this activity and assistance can be provided in opening doors to allow the corporate objectives to be achieved.