We are losing our democracy at a very fast rate.
It's very obvious that we do not have a government "of the people, by the people, for the people".
It is rule by coercion and corruption with mainly US corporate giants, pulling the strings.
And Australia is about to give up its heritage to corporate rule when it signs the Trans Pacific Partnership Agreement – an agreement that allows corporate giants to sue the Australian government for anything that even looks like an infringement of their intellectual property.
The treaties signed by government give some trade concessions, but the corporates take more than they give, and the treaties override any legislation generated by local, federal or state governments.
Money and greed is the reason – Australian politicians are being bought, and once they accept a single dollar, they are caught up for life in a web of deception and lies.
They are definitely un-Australian and they are losing the trust of the Australian people – even to the extent that revolt and violence becomes more prevalent as people refuse to bow down to decisions made by our leaders and the corporates standing behind them.
An Australian example is the issue of vaccines.
The debate has been cleverly manipulated by Big Pharma to two extreme points – pro vaccination or anti-vaccination.
The middle ground of safe vaccination is lost in the verbal diarrhoea coming from the pro vaccination camp with mainstream media singing their tune.
No such thing as open debate with mainstream media being a working part of democracy, reporting news in a balanced format.
We even have our own specialist writer for pharmacy, Sue Dunlevy, who quite comfortably writes for the Murdoch press and writes a script under instruction that is quite distorted, but assists her master to write bewildering and confounding "news".
No balance and no truth.
At this point I would like to introduce Seth Godin to you – a marketing guru and philosophical writer who always seems to have the right words at the right time.
He says:
"You are with me or against me."
"Being against me is the same as being against us."
"If I determine that you are against us, you deserve all the problems that you brought on yourself by your actions.
Don't make me hurt you again."
We are fortunate to live in a civil society that is governed by ideas, ideals and laws. Lincoln correctly warned us about the mob and the bullying leader who eggs them on.
Coercion can make change happen (in the short run).
Coercion can look like leadership.
But it doesn't scale and it doesn't last, because ultimately, it burns down the very institution it sought to change by mob force.
We can encounter bullies at work, coaching teams and even working in law enforcement.
Wherever people organise, they show up.
Coercion gets its start because well-meaning people believe that the short-run cost of the mob mentality is worth it.
It almost never is.
Coercion uses force and blames the victim.
And coercion is impossible to live with.
Real change happens because of enrolment, because it invites people in, it doesn't use fear.
Real leadership patiently changes the culture, engaging people in shared effort.
It's more difficult, but it's change we can live with.
This is definitely a description of the coercion used by government to mandate for compulsory vaccination, taking away a human right that many international treaties define.
The Australian government is in breach of every single one of them.
The following post (including the information below it) appeared on my Facebook page recently.
It alleges some serious conflict of interest by our Prime Minister:
Tyler Tolman Follow
10 March at 21:05 ·
Being financially tied to any product you can force on people from a political place is just obviously wrong.
Politicians = Corporate sponsors
For corporations, not people.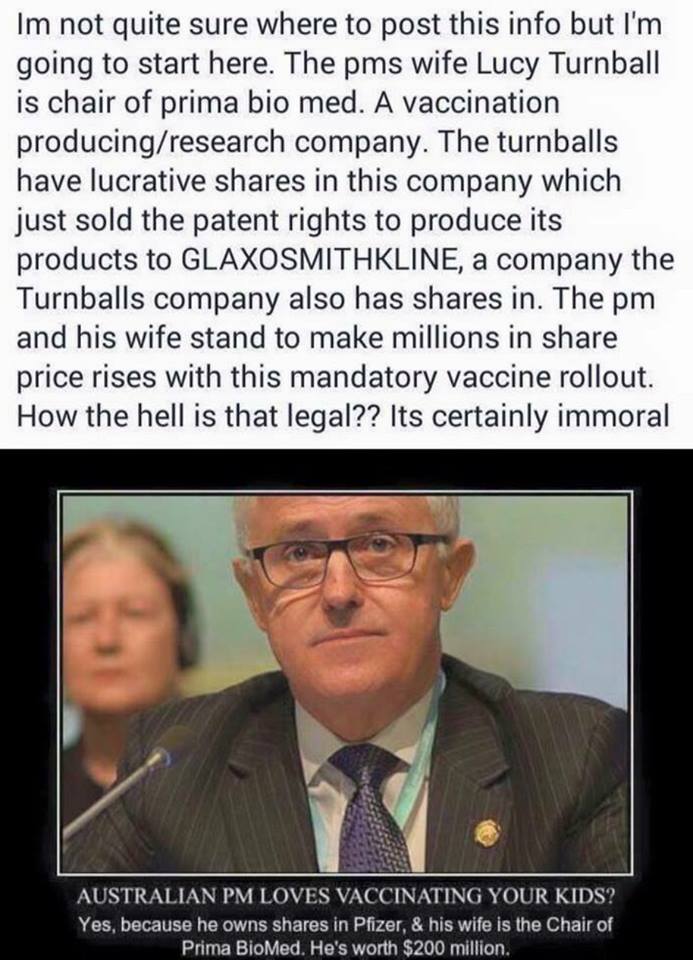 The above information is quite confronting but it does give a reason as to why the "No jab, no pay" vaccination legislation got through, with pressure coming from the very top end of our government as this person alleges.
Couple this with a Cayman Island tax shelter, how can this man morally lead Australians?

And how can he validly deal with the zero or very near zero tax collected from the giant corporates when he is engaged in the same practices as they are and financially linked to Big Pharma.
Below is a link to a YouTube video talking about Prima BioMed

https://www.youtube.com/watch?v=Z3_TtH–2sw 
At this link, Prima Biomed Factsheet, you will find information regarding who manages the company.
It seems to be an Australian company with some clever research that is now attractive to the Big Pharma consortiums.
It's not that we don't support Australian enterprise – we admire it.
It is only the conflict of interest and the ongoing damage inflicted upon our children that we abhor.
Make up your own mind.