27 OCTOBER 2015
CHOOSING WISELY AUSTRALIA TO FEATURE ON CATALYST'S "TOO MUCH MEDICINE"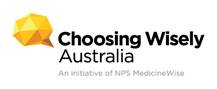 Choosing Wisely Australia® will feature in tonight's episode of ABC's Catalyst program, in a special report by Dr Maryanne Demasi called "Too Much Medicine". The investigation will ask "Could excessive medical interventions be causing more harm than good?".
Dr Robyn Lindner from NPS MedicineWise is interviewed about the benefits of and need for the health profession-led initiative that identifies and aims to reduce tests, treatments and procedures that are of proven low value.
"Too Much Medicine" will air on ABC TV at 8:00pm (AEDT), Tuesday 27 October 2015.
For interviews with Dr Robyn Linder, please contact the NPS MedicineWise media team.