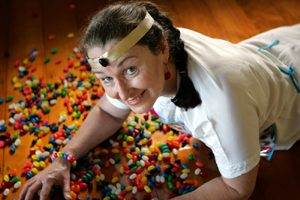 Submitting a complaint against false and misleading claims for therapeutic goods is easy, but the same cannot be said for therapeutic services. While there is still no effective way to challenge unregistered practitioners, the Australian Health Practitioners Regulation Agency (AHPRA) was established in 2010, to work in partnership with our National Boards with a "primary role of protecting the public", in respect of registered practitioners Consumers therefore assumed that registered practitioners would embrace evidence-based medicine.
Anyone promoting therapeutic goods comes under the Therapeutic Goods Advertising Code; advertisements are required to "contain correct and balanced statements only and claims which the sponsor has already verified", must not include representations "likely to arouse unwarranted and unrealistic expectations of product effectiveness" and must not mislead "directly or by implication or through emphasis, comparisons, contrasts or omissions". If sponsors claim that their goods are "safe", orcompare them to a registered drug or claim to treat serious diseases, they might be breaching the code.
Even though it has little power to enforce its determinations, the Therapeutic Goods Administrations Complaints Resolution Panel (TGACRP) has achieved an impressive list of outcomes.
The story is quite different for services. Unless a patient is severely harmed, there are no effective ways for consumers to challenge unproven, disproven or even potentially life-threatening services. To get around the advertising guidelines, many registered practitioners add disclaimers – what they offer "is not an established cure for disease", while openly targeting vulnerable patients.
While the National Law states that practitioners must not advertise a service that "is false, misleading or deceptive or is likely to be misleading or deceptive", chiropractors, osteopaths and acupuncturists, openly target children in this manner. Allergies, eczema, asthma, ADHD, developmental abnormalities, digestive problems and irritability are often cited as "common warning signs" for 'treatments' which these registered practitioners claim will enable "the nervous system to function at its optimum". They sometimes also state that they offer "quality and natural health care"that is safe, effective, natural and that will "help the body to heal itself", "maximises your healing ability" or "help boost your immune system". All these claims are unproven and misleading.
Other practitioners claim that research confirms that they can "give them (ie children) the best possible start" or the "best chance to express their fullest potential" because "it's never too early to check a baby". Chiropractic statements include"research in the 1970's confirmed that children with neurological, emotional and bahavioural problem can be helped by spinal adjustments". There are also links to anti-vaccination groups – the list of false and misleading information goes on. Passing the complainants' names to the practitioners can lead to victimisation.
The Australian Health Workforce Ministerial Council (AHWMC) has "responsibility for the overarching policy approval for matters relating to the National Registration and Accreditation Scheme (NRAS) for health professions" which includes appointing and dismissing Board members. However, the Boards do not control the scope of practice for their members, who regulate themselves; as a result – "anything goes!".
However, there is hope. In April, the Standing Council of Health (SCOH) appointed an Independent reviewer to lead a review of AHPRA, scheduled to conclude in March 2015. Part of this Review includes public consultation and submissions are welcome. If you believe that AHPRA is inefficient, ineffective and failing to protect us, why not have your say?